Governor Albert A. Bryan Jr, the ninth elected governor of the US Virgin Islands (USVI) won the gubernatorial race on Tuesday, November 8, 2022, and cemented his legacy as a two-term leader.
Winning 55.85 percent of votes cast Tuesday — or an overall total of 11,544 — incumbent Governor Bryan Jr and Lt Governor Tregenza A. Roach secured a second term in office, while opponents Kurt A. Vialet and Janelle K. Sarauw brought in 7,926 votes, or 38.35 percent.

According to the unofficial numbers, General Election day voting showed Vialet-Sarauw pulling in more on St Croix, with 2,572 votes, while Bryan-Roach turned the tables on St Thomas-St John with 2,876 votes, but the gap widened in the early voting numbers by 2,800 votes, with the Bryan-Roach team garnering 6,834 votes to Vialet-Sarauw's 4,045.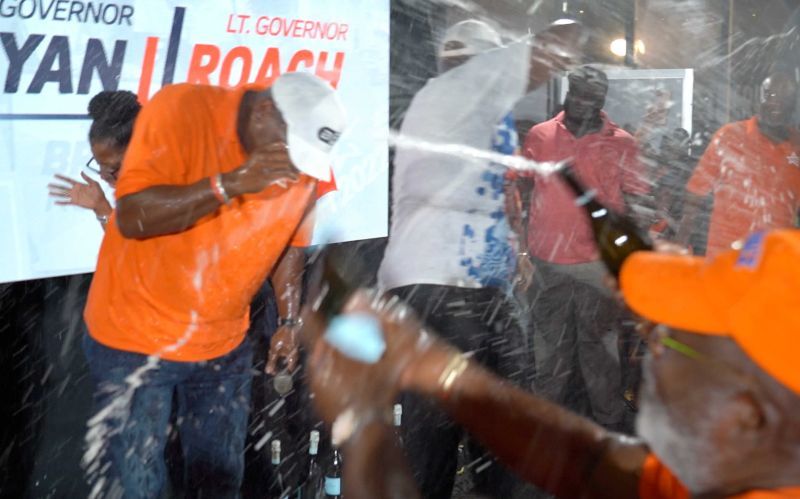 Supporters splash champagne on Governor Albert A. Bryan Jr following his gubernatorial victory on Tuesday, November 8, 2022.
About 54% of voters participated
Overall, between early voting and poll activity on Tuesday, about 54 percent of registered voters participated, with a total of 21,522 votes cast out of a potential 39,876 active voters.
Gubernatorial teams Stephen Frett, and Gregory Miller Jr also received 705 votes, while Ronald Pickard and running mate Elroy Turnbull got 238 votes.
Speaking after the unofficial numbers were announced, Bryan said the 55 percent showed a real endorsement of what his administration has been able to accomplish over the past four years, which folded in pandemic and disaster recovery efforts, along with the restoration of the 8 percent salary reduction owed to government employees, the repayment of income tax returns and efforts to stabilise the Government Employees' Retirement System, among other things.
According to VI Consortium, the mood over at the Bryan-Roach campaign was euphoric, as supporters and campaign diehards cheered for joy.
It said at the Vialet-Sarauw headquarters, despondency was on the faces of many supporters, with their candidates having given up their seats in the Legislature in order to run - and lose - the gubernatorial race.