Bevin S. George, a young political activist and co-host of the National Democratic Party (NDP) radio show, NDP Radio, told a local radio station last week that he intends to run for a seat in the Seventh District.
Mr George said he was not on the show, Tola Radio 1005.5 FM, to promote any party, saying he was a party supporter "but I am not really affiliated with any party right now."

"So Heritage, I just came here today to really and truly tell you I just breaking the ice meh son. Like you done say the horse them done ready to come out and I was like let me just push out my head," Mr George told Mr Burnett on the show on February 17, 2022.

According to Mr George, he has been on the back burner a long time and thinks the time is now to throw his hat in the political ring.

Mr George, a BVI Electricity Corporation employee, stated that some of the things he wants to see if elected are an increase in the minimum wage and more focus on the youth.


Who really is running on NDP ticket?

Asked if he was running in the 7th District, Mr George said he would be interested in contesting the 7th District as he is from Long Look and doesn't want to run At Large as he believes At Large representatives should be ministers.

George also acknowledged that there are other persons interested in running for a seat in the 7th District and who may also seek to be considered on the NDP ticket, but he just wanted to let the NDP know they had options.

It is unclear if the NDP has a primary process to select a candidate for the Seventh District, as many residents of the district have told our news centre that about two other persons have been making the rounds saying they are running, including on the NDP ticket.

Former Deputy Premier Dr Kedrick D. Pickering, who left the NDP and contested his 7th district seat as an independent candidate in 2019, told a local radio talk show Honestly Speaking with Claude O. Skelton-Cline that he is neither in nor out of the 2023 Seventh District race.

Dr Pickering lost his seat after 20 years in office to the newcomer and now Deputy Premier Dr the Honourable Natalio D. Wheatley (R7), who is also the Minister for Education, Culture, Youth Affairs, Fisheries and Agriculture.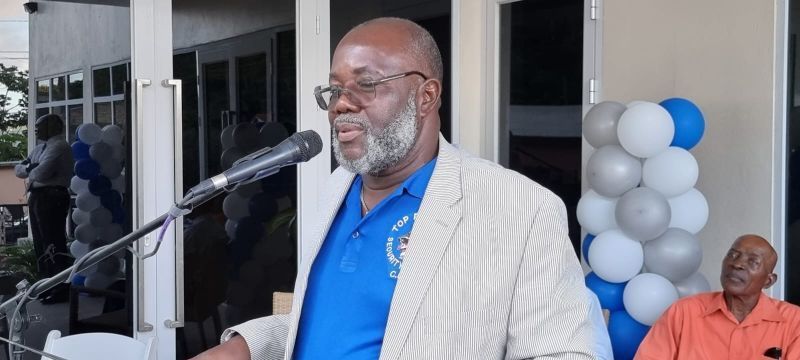 Businessman Lesmore Smith, who unsuccessfully contested for a seat at the 2019 General Election in the Virgin Islands, is the first to announce he will be vying for a seat at the 2023 elections.
Lesmore Smith 1st to declare candidacy

Mr George is the second person to express their interest in running for office at the 2023 general elections constitutionally due no later than May of next year.

Lesmore Smith has already said he will run with the Progressive Virgin Islands Movement (PVIM), an NDP breakaway party that was led by Ronnie W. Skelton in the 2019 elections.

It also remains unclear, following the resignation of defeated former Chairman and Minister Myron V. Walwyn of the NDP, who is the new NDP Chairman, or if the post is being held by anyone.