Recently persons in the yacht charter industry have taken to social media to complain about the clampdown by HM Customs on vessels not in compliance with the territory's laws, including not having a valid license or safety certificate.
Lending his voice to the complaints was local Mr Broderick Penn, the Director of Enforcement at the BVI Financial Services Commission, who was quickly criticised by an HM Customs Officer who accused Mr Penn of being hypocritical, political and condoning lawlessness.

In a Facebook post today, March 17, 2022, Mr Penn, a former Premier's Office Permanent Secretary under the former National Democratic Party (NDP) Administration, said he was waiting for a sensible explanation to what he termed a "charter yacht detention debacle" and that he was still waiting for someone to explain why vessels are being detained.


Imposing fines a better idea- Broderick Penn

He also claimed that the measures have "also chased many local operators off the sea in the same manner."

"Surely the answer cannot be because they do "not have a recreational commercial license or 'we are enforcing our laws?'"

Mr Penn suggested that unless there is a safety issue to operating the vessel for not having the license, it would be better to just impose a fine on the operators.

"Instead we choose to physical disrupt the business that is the life blood of our economy which we are just making strides to build back. And on top of that we create an unpleasant, disruptive and unfair experience for our sailing guests. And if that wasn't good enough, we create a PR nightmare for the industry and the BVI. I mean how did we think this will end? And the Gov't is silent on the matter," Mr Penn contended.


Mr Penn accused of double standards

Among the response to Mr Penn's post was Customs Officer J. Winter, who called out Mr Penn on being hypocritical and possibly grandstanding for political reasons.

"As a young law enforcement officer, I will not be discouraged by those comments. However, what is concerning is that you as a Financial Service Regulator would make such a comment that condones Businesses operating in the territory without licenses," Winter wrote.


Politics @ play?

The young Customs Officer also questioned whether Broderick's views were not coming from a political platform/agenda.

"In my interpretation, this post clearly sends a message that anyone can come to the BVI and operate without following the laws of our country. This would not be the leadership anyone would be looking for."

According to Winter, the charter companies in the VI generate revenue in excess of $120M monthly and commercial licenses and safety equipment per unit costs approximately a few hundred dollars. "Once all safety requirements are met and necessary documents are submitted to Customs, they are good to go!"


'Zero tolerance'

Winter said HM Customs has "zero tolerance for vessels that are lacking safety certificates (which IS usually the case) because it speaks to the safety and lives of our guests."

The Officer also said HM Customs has held many symposiums educating all interested parties on the requirements so there should be no excuses when HM Customs is doing compliance checks.

"I suggest you do some more research on this matter before publicly attempting to discredit the integrity of Her Majesty's Customs," Winter wrote.


Concern not political- Penn

Mr Penn then claimed that he was not playing politics and he was just expressing concern for the industry.

"I should say though it's quite a false and inaccurate assumption that my concern is political. Trust me it's not! Nor would I EVER attempt to discredit any law enforcement agency.

My concern is for the impact of the action on our Tourism sector," Penn responded.

Meanwhile, efforts to reach Commissioner of Customs Mr Wade N. Smith for clarification on the detention issue were unsuccessful up to time of publication.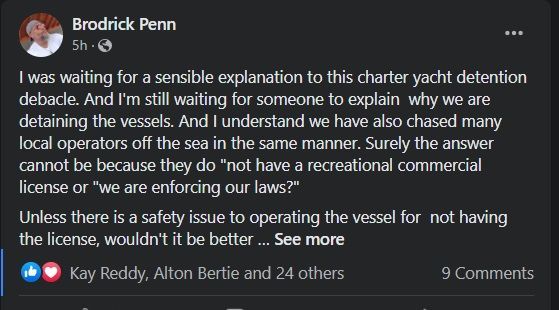 A portion of the Facebook post by Mr Broderick Penn.