After the late Queen's lady-in-waiting Lady Susan Hussey apologised and resigned after she was deemed to make racist comments to a black British charity boss, Buckingham Palace also apologised for Lady Hussey's actions; however, Bishop John I. Cline says Buckingham Palace as well as nations that perpetuated racism need to do more in rooting out racism and "righting the wrongs" against people of African descent.
'Offensive, racist & unwelcoming'
Ngozi Fulani, a charity founder, was grilled about her background by
Prince William
's godmother at a charity event at the palace on Tuesday, November 29, 2022. An eyewitness to the conversation, Mandu Reid, told BBC News that Lady Hussey's questions had been "offensive, racist and unwelcoming".
The palace described the remarks as "unacceptable and deeply regrettable". A statement from Buckingham Palace read: "All members of the household are being reminded of the diversity and inclusivity policies which they are required to uphold at all times."
Buckingham Palace apologised- Gov Rankin
Virgin Islands News Online reached out to His Majesty's representative in the territory Governor John J. Rankin, CMG on his views on the matter.
Governor Rankin noted that Buckingham Palace had apologised for Lady Hussy's comments.
"This is a matter for the Palace and I would point you to their statement, which apologises for what it says were 'unacceptable and deeply regrettable comments'.
"I agree with the Palace that racism has no place in our society and that the right course of action has been taken," Governor Rankin stated.
More than apologies needed- Bishop Cline
According to Bishop Cline; however, the sentiments coming out of Buckingham Palace should come as no surprise to people of African descent, whether they live in Africa or the Caribbean.
"This has been their modus operandi for centuries. They have the mentality that we are less than they, white is superior to blacks, and they have perpetrated that lie with great conviction to the rest of the world, so not only in England but in France, Germany and Belgium, Italy and Spain, the sentiments are the same from the very top echelons of leadership. This is how we feel about we as a people of African descent."
According to the Bishop, while apologies are good much more needs to be done to stamp out racism and to make amends for the atrocities of racism.
"So the apologies are welcome [but] it needs to go further, in being more intentional in rooting out racism and making right some of their wrongs, many of the wrongs they have committed against people of African descent for centuries, the enslavement, the stolen resources, devaluation of currencies, the marginalisation of our people to keep us rising, and the list goes on and on and even today the economic warfare that they are waging against African countries.
"All of this is based in the systemic and cultural racism of these nations of the world who call themselves leading nations of the world, who have built their wealth on the backs of African labour and African natural resources and raw material. They need to apologise even more," Bishop Cline asserted.
Royals doing damage control!
Meanwhile, it has been reported that the royals are currently doing "damage control" following reprehensible racist comments
Prince William
's godmother Lady Susan Hussey made to Sistah Space director Ngozi Fulani at Queen Camilla's Violence Against Women and Girls reception.
According to royal expert Christopher Andersen on December 1, 2022, the royals are "scrambling" in the wake of Lady Susan Hussey's comments, especially as
Prince William
and Kate Middleton are currently in Boston for several days of public engagements.
"This latest scandal has Palace operatives scrambling to do damage control, and it couldn't have come at a worse time," Andersen told Us Weekly. "She's not a marginal player—she operates at the heart of the royal household."
Andersen added that it's "another PR disaster for the royal family—and with the release of the Sussexes' documentary on December 8 and Harry's tell-all book in January, the next couple of months are going to be tough for the Royal Family in general and the King in particular. Many of the older royals are still unquestionably tone-deaf, and it remains to be seen what impact this will have on King Charles—and the monarchy."
Lady Susan Hussey has resigned from her honorary position as one of King Charles's advisors due to her racist behavior—which included aggressively and repeatedly asking Ngozi Fulani where she "really came from."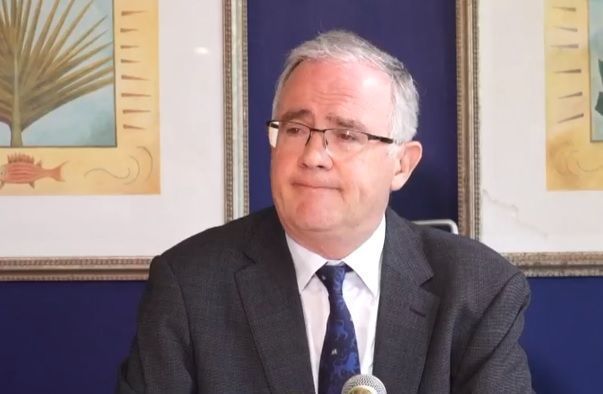 Governor John J. Rankin noted that Buckingham Palace has apologised for Lady Hussy's racist comments and that he agrees with the Palace that racism has no place in our society.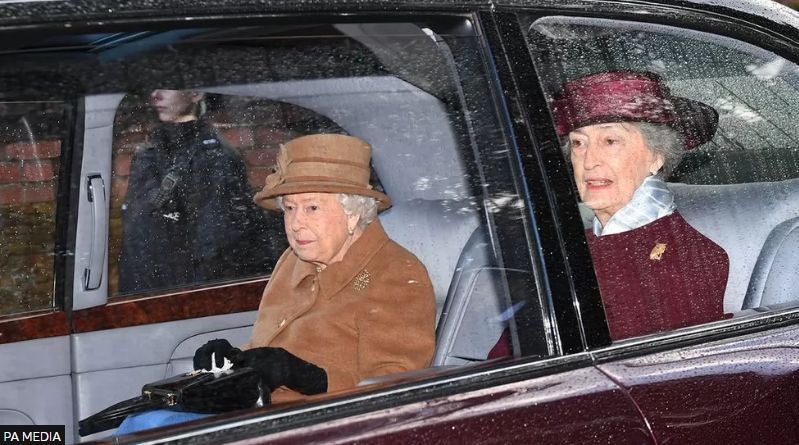 Lady Hussey, 83, was part of the inner circle of royal aides for decades.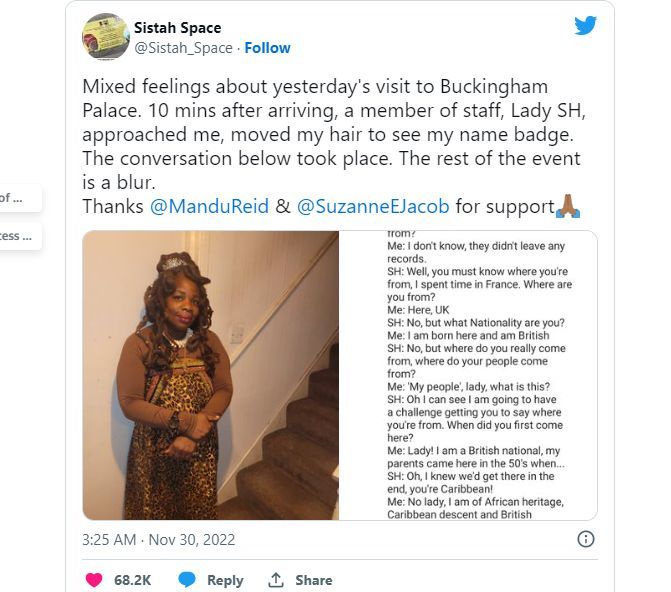 Sistah Space Director Ngozi Fulani provided a transcript of the conversation on Twitter.