Ninth District Representative Hon Vincent O. Wheatley has suggested the Virgin Islands (VI) should reconsider the number of yearly public holidays as they are seen as a burden to businesses in the territory.
"I saw a lot of businesses are complaining about the number of holidays. I saw one today, because Monday is a holiday, and the person was complaining, 'oh my god', and I think they were saying this is the 15th holiday for the year so far," Hon Wheatley stated during the Continuation of the Eighth Sitting of the Fourth Session of the Fourth House of Assembly (HoA) on November 24, 2022.

He said persons who are not business owners may not be interested in the topic; however, it is something that needs to be looked at.

There are 15 public holidays in 2022, including the Commemoration of the 1949 Great March and the Restoration of the Legislative Council to be observed on Monday, November 28, 2022.

There are 14 official public holidays listed for 2023 in the Virgin Islands.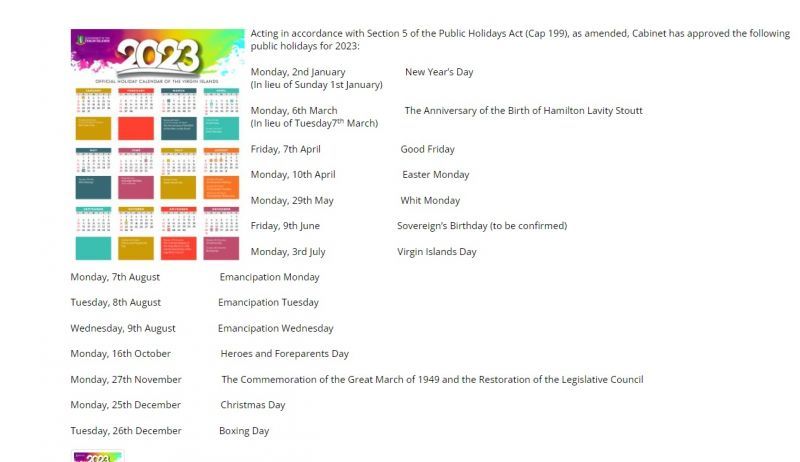 Cabinet in September approved 14 Public Holidays for 2023.
'An extra burden'
"Now if you don't have a business, it may not mean anything to you. If you have a small business, well you would be scratching your head, a bigger business [and] you really scratching your head, because you are paying a lot of money without getting any extra productivity or any extra income."
According to Hon Wheatley, a lot of businesses are "really starting to get irritated" since the business environment is really challenging right now "and I think they are seeing it [public holidays] as an extra burden. So it is something for us to consider."
He suggested the VI could have more bank holidays instead of public holidays, " where you don't work you don't get pay, but if you work you get pay, something like that.
"But I think with the holidays we have now is appearing to be a burden on some businesses…having to have dealt with the hurricanes, the floods,
COVID
,
CoI
, all of that stuff there, it is really affecting the businesses," Wheatley said.