Chairman of the Board of Directors of the BVI Health Services Authority (BVIHSA) Mr Moleto A. Smith Jr has emphasised that the BVIHSA Board is very independent and never received any directives from Premier and Minister of Finance Honourable Andrew A. Fahie (R1) to send two senior staff members home due to alleged irregularities.
Opposition Leader Honourable Marlon A. Penn (R8) during a press conference on Wednesday, February 2, 2022, had shared with the media a letter Premier Fahie wrote to Health Minister Carvin Malone (AL) to push for actions to be taken regarding an Audit Report that alleged gross misconduct and fraud by senior staff of the BVIHSA.

There was no evidence that Honourable Fahie, who is ultimately accountable for the use of taxpayers' funds as Finance Minister, engaged the BVIHSA Board directly or vice versa; however, the Opposition Leader had alleged that the Premier gave directives to the Board.

This was; however, debunked by Mr Smith during an interview with Cathy O. Richards on JTV's Big Story on Friday, February 11, 2022.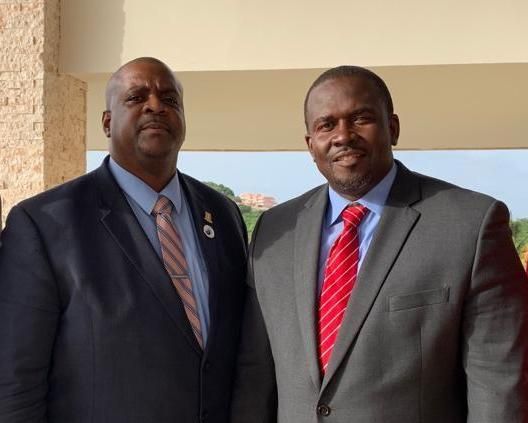 Opposition Leader Hon Marlon A. Penn (R8), right, has accused Premier Andrew A. Fahie (R1) of 'overstepping his boundary' regarding the issues at the BVI health Services Authority.
'We received no directives from anyone'- Smith

"The conduct of health care requires the support and interaction from the Ministry under which the board sits, it requires support from the central government for the subventions it receives for the care of certain categories of residents but the board is independent," Mr Smith stated.

The BVIHSA Chairman was emphatic that the Board received no directives from either the Premier or Health Minister.

"The board received no directive from anyone to take any action against any of our employees I want to make it clear that the board is independent…. We received no directives from anyone, neither the premier as your question asked or anyone else to take any action regarding our staff or those individuals that reports to the board. We received no command, directive to do anything."