Everyone is entitled to an opinion. As incorrect as those opinions may be.
Earlier this week, Mr Khalid Wasi wrote an opinionated piece on Caribbean history in Bermudian news site The Royal Gazette https://www.royalgazette.com/opinion-writer/opinion/article/20230104/if-only-a-question-of-intellect/
Considering his constant bashing of the region, I found it an interesting topic for him to write about where he had this to say.
"Certainly, up against the backdrop of that failed [West Indies] federation, it may have been extremely difficult to inspire the thought of greater regional unity.
Mr Wasi is either lacking knowledge on Caribbean political history or willfully ignoring it. He ignores the fact that the West Indies Federation was essentially a British concept for centralising control and administration of their West Indian Colonies, prior to any of them gaining independence.
One other particular paragraph really raised my interest.
"Over the years since and with the absence of any mega-government leadership figure emerging, Sir Eric E. Williams of Trinidad remains the last of the intellectual great ones. Not to suggest there were no great intellectuals, but that none became government leaders."
In his opinion, there were no great intellectuals who became government leaders. Please allow me a few minutes to point out the obvious flaws in his theories.
Let us start with the 4th of July 1973 when the Treaty of Chaguaramas was signed, thus creating the foundation of CARICOM (Caribbean Community). The Founding Fathers were Prime Ministers Errol W. Barrow of Barbados, Linden Forbes Sampson Burnham of Guyana, Michael N. Manley of Jamaica and Eric E. Williams of Trinidad and Tobago.
Does Mr Wasi think that one Prime Minister alone could have come up with this vision and others just blindly followed? Or, was it more likely that these were men of equal intellect and vision for a united Caribbean of independent nations.
One has to only take a few minutes and listen to the recorded speeches of any one of these gentlemen to see that their mental prowess exceeded many who resided at 10 Downing Street and 1600 Pennsylvania Avenue.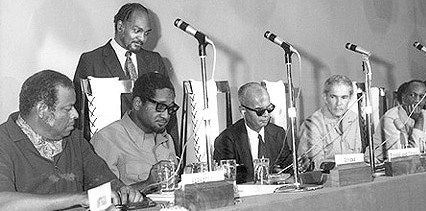 The Founding Fathers were Prime Ministers Errol W. Barrow of Barbados, Linden Forbes Sampson Burnham of Guyana, Michael N. Manley of Jamaica and Eric E. Williams of Trinidad and Tobago.
Regional Leadership
Apart from them, there are tons of examples of Caribbean Intellectuals who went on to become leaders of not only their respective islands but regionalists who have shaped the post-colonial Caribbean.
Here are just a few examples of Caribbean intellectual leadership
Lynden O. Pindling of the Bahamas
Robert L. Bradshaw of St. Kitts
Vance W. Amory of Nevis
M. Eugenia Charles of Dominica
Maurice R. Bishop of Grenada
Ralph T. O'Neal of the Virgin Islands
Lois M. Browne-Evans of Bermuda
P.J. Patterson of Jamaica
Patrick A.M. Manning of Trinidad and Tobago
Owen S. Arthur of Barbados
James A.G.S. McCarney of the Turks and Caicos Islands
Hubert B. Hughes of Anguilla
Again, Mr Wasi is entitled to his opinion. However, the reality is that the Caribbean is a potpourri of islands, languages, economies, histories, colonial powers, ethnic groups and political ideologies. There is no singular leader now or ever, that can be identified as uniting the region that consists of both politically independent and still colonised islands.
Just as the European Union (EU) is a collection of countries with vastly different languages, histories and political ideologies. There is no singular EU leader who can ever lay claim to uniting that region. The reality is that there is no need for anyone to do so, as the frameworks of both CARICOM and the EU is that member states have equal say in bringing ideas, vigorously debating ideas and implementing regional programmes.
Essentially, the Caribbean really did not need the British centralising their administration and control of the region. They now have regional unity on their own terms and accords.
In closing, every single leader in the region understands that our small island economies are reliant on inter-regional trade, travel and migration of skilled workers.
After all, that is what the founders of CARICOM and OECS put in place.