Tortola Auto Group (TAG) has announced the commencement of operations on Virgin Gorda, with the opening of the CARQUEST Auto Parts store from today, January 3, 2023.
The completely new retail location is situated at Center Road, Petty Pasture and customers will enjoy 10% discount store-wide during the month of January.


Promise fulfilled
Operations Manager, Ms Haimadevi Budhoo, said that the opening of the CarQuest store is the first step of TAG's outlay on Virgin Gorda as in the coming weeks other services will be added including a full state-of-the-art garage and car sales.
"This is a fulfillment of a promise we made to residents of Virgin Gorda when our operations opened on Tortola in 2015. The residents of Virgin Gorda deserve access to a modern auto solution on island and we're excited to be part of the community for years to come," Ms. Budhoo said.
CARQUEST Auto Parts, an international retail chain with more than 3,000 locations in North America and the Caribbean, is part of the Advance Auto Parts family.
The store carries an assortment of leading name brand automotive parts and accessories catering to both professional auto repair garages and do-it-yourself customers. In addition, the new location also carries products for heavy-duty machinery and the marine industry.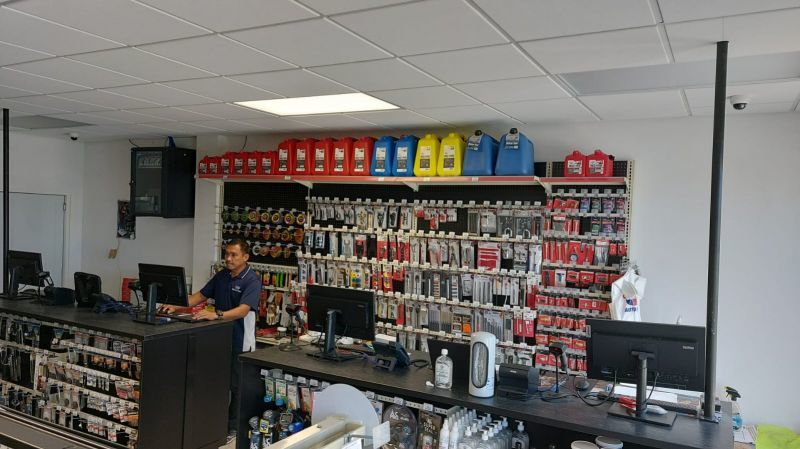 Inside the CARQUEST Auto Parts store situated at Center Road, Petty Pasture on Virgin Gorda.
Benefits of CARQUEST store on VG
Parts Manager, Tirso Tuppil Jr said the Virgin Gorda retail store will also offer free installation for batteries, tyres and other accessories which is all part of TAG's customer service assurance.
"The biggest benefit of having CARQUEST in Virgin Gorda is access to a full network of parts suppliers. For years customers on the island have had to rely on ferries to deliver auto parts and this resulting in longer down times for vehicle repairs. We are making over one million in inventory available to Virgin Gorda, removing wait times and lowering the cost for auto parts," Tuppil Jr. explained.
He added, "We have done significant research on the vehicles on Virgin Gorda and right away we are able to provide the highest quality service parts at very competitive prices."
TAG plans to undertake a formal opening ceremony of the Virgin Gorda operations at a later date.