Beijing hits back after Britain announces creation of new special class of visa for Hongkongers holding BN(O) passport.
China's foreign ministry has doubled down on its threat to stop recognising BN(O) passports, a day after Britain issued more details on advancing plans to open its doors to eligible Hongkongers.

The British government is set to create a special class of visa for Hong Kong holders of British National (Overseas) passports as the first step in a new pathway to earning the right of abode in the country and full British citizenship.

According to a statement issued on Thursday, by the British Foreign, Commonwealth and Development Office, there would be no cap on the number of BN(O) passport holders allowed to take part, and applications would open on January 31, 2021. Close family members of passport holders would also be eligible for the visas.

"The imposition of the national security law on Hong Kong marked a clear erosion of the rights and freedoms for the people of this city. This new route to the UK is part of our commitment to the people of Hong Kong," Andrew Heyn, the British consul to Hong Kong, said.

In a press briefing on Friday, foreign ministry spokesman Zhao Lijian was asked if Beijing would take retaliatory measures or stop BN(O) passport holders from leaving Hong Kong.

UK unveils details of citizenship offer for Hongkongers with BN(O) passport holders


"The Chinese government has repeatedly made clear its strong stance on this issue, but the British side has insisted on … interfering with Hong Kong affairs and China's domestic issues. It is only moving a rock to hit its own feet," he said.

"As the British side broke its own promises, the Chinese government will consider not recognising the BN(O) passport as a valid travel document, and reserve the right to impose further measures."

Zhao was referring to the argument that before Hong Kong was returned to Chinese rule in 1997, London promised it would not grant the right of abode to Hong Kong Chinese BN(O) holders.

Former Hong Kong secretary for security, Regina Ip Lau Suk-yee, previously said if the foreign ministry proceeded with the move, the city's Immigration Department might instruct flight companies to stop selling tickets to BN(O) passport holders.

Passengers could be banned from leaving or entering Hong Kong using the passports, even though they could still do so with Hong Kong or Chinese passports.

In a statement issued on Friday, a spokesman for the foreign ministry's Hong Kong office also said he "strongly opposed and firmly objected" to the British decision.

"We urged the British side to rectify its mistakes immediately, and stop its hypocritical show and political manipulation," he said.

"By providing this new pathway, the British have publicly violated their own promise, blatantly interfered with China's domestic issues and Hong Kong affairs, and seriously violated international law and basic principles of international relations."

A spokesman for the Hong Kong government also said it "deplores and opposes" the British government's interference in Hong Kong affairs.

On Thursday, the British government said it was changing the entitlements attached to the BN(O) status in response to the breach of the Sino-British Joint Declaration by the Chinese government in restricting the rights and freedoms of Hong Kong people, and eroding the high degree of autonomy of the city.

China condemns UK for citizenship offer to BN(O) passport holders in Hong Kong


But the Chinese foreign ministry's Hong Kong spokesman said London had twisted the 1984 declaration, which focused on what the Chinese and British governments must do in the run-up to the 1997 handover.

"Nothing in the declaration mentioned that the British has any responsibility regarding Hong Kong after the handover," he said. "Britain has no sovereignty over Hong Kong … its so-called commitment to the people of Hong Kong was only wishful thinking and groundless."

Immigration consultants said the launch of the new special visa attracted a lot of inquiries from young Hongkongers born in the 1990s.

"The cost shows the UK government is trying to make the visa affordable for BN(O) holders," said Willis Fu Yiu-wai, marketing director and senior immigration consultant of Goldmax Associates.

He cited Britain's spousal visa, which costs £1,523 (HK15,000) as an example.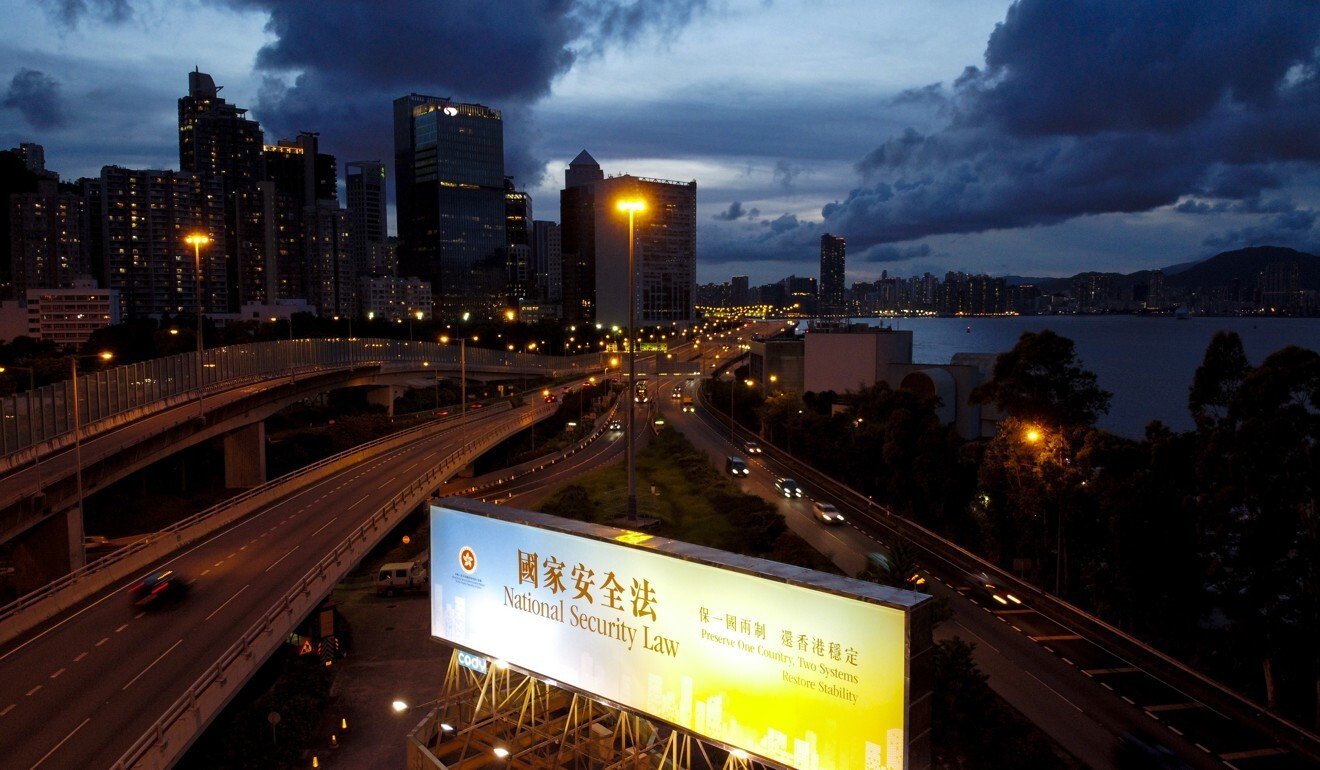 A large banner promotes the national security law in Quarry Bay.

A 36-year-old office clerk, who asked to be identified as John, planned to apply for the visa in February, and move to England after his contract expires next summer.

"I was arrested in the protests before, so I must apply for a visa before Hong Kong authorities lay any charge on me," he said.

"After the national security law was imposed, Hong Kong was no longer suitable for me to live in. You can only live here if you are an obedient subject who doesn't care about what happens."

But analysts also noted the visa scheme remained unclear to many residents.

A government primary school teacher in his 40s, who planned to emigrate with his family to Britain with his BN(O), said he was unsure whether to go.

One of his questions, he said, was whether his family would still be eligible to apply for citizenship if not all of them lived in the country during the five-year period.

He also said some teachers in public schools were also concerned whether their pensions would be terminated by the city's government if they emigrated under the scheme.

"Speculations emerged among colleagues about possible retaliation from the government," he said.

In July, the Hong Kong government objected to Britain's decision to suspend its extradition agreement, and accused the former colonial ruler of double standards, gross interference in China's internal affairs, and violating international law.

This week, Ireland suspended its extradition treaty with Hong Kong in the wake of national security legislation the country's foreign minister, Simon Coveney, said had been adopted without any meaningful consultation.

"This decision ... clearly signals Ireland's concerns in relation to the rule of law in Hong Kong and the erosion of judicial independence promised under the 'one country, two systems' principle," Coveney said.

Last week, Finland also announced it would suspend its extradition agreement with Hong Kong, following similar moves by Canada, New Zealand, Australia, and Britain.

Issuing a statement on Friday, a Hong Kong government spokesman said it had sent a notice to Finland's consulate in Hong Kong to suspend its agreement with the country on the surrender of fugitive offenders.