Premier and Minister of Finance Honourable Andrew A. Fahie (R1) has revealed that the construction of the new West End Ferry Terminal will get underway during the 2022 summer months.
He made the comments during a public meeting on the project last night, February 15, 2022.

"The funds for this project is already allocated so it is not a pie in the sky project. Construction is projected to start later in the summer around August/September I am understanding from Mr [Anthony S.] McMaster and his team but it is projected to start this year," he said.

Project Manager Dr Karsten Gallip had previously projected the works to commence by July and end in November 2023.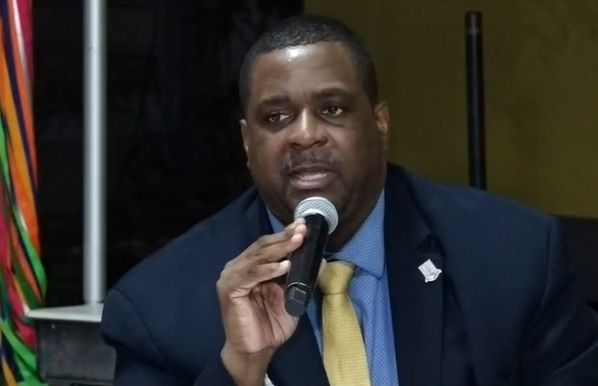 Premier and Minister of Finance Hon Andrew A. Fahie (R1) said the modernisation of the West End Ferry Terminal is not a 'pie in the sky' idea and funds have already been allocated for the project.
A lot of work ongoing

In the meantime, Premier Fahie pointed out that there is a lot of ongoing work.

"All the times we were working towards this and having the public meetings, a lot of work have been happening behind the scenes; so don't mistake the absence of noise for the lack of activity. So there has been a lot of activity behind the scenes with this project over the many years."

He then explained that the project has been long in coming.

"From the time I was in class three I heard about the West End Jetty being modernised."

The territory's leader said while there has been some cosmetic work done over the years, it was baffling to him why for a seaport this busy that a modernised facility had not been done sooner.

"I don't go into why the First District or why not the First District, that to me is shallow thinking, it has to be in some district, and this has to be there for years in a very instrumental, focal point, to allow this to happen with the international travel and it needs to be done, plain and simple as that," he said.

Hon Fahie stated that the spin-off from this project will be huge, with businesses like the car rental companies, vendors, and taxi operators standing to benefit from it.