Boris Johnson, the man ousted as UK prime minister by his own government just three months ago, has emerged as an early front-runner to be the next prime minister.
His replacement Liz Truss crashed and burned after 45 days in the job, announcing her resignation after being forced to ditch most of her policy programme after it spooked the financial markets.

A second Johnson premiership would be an extraordinary turnaround even for a politician who has made miraculous comebacks before.

The last time anyone returned to the office of prime minister after losing the leadership of their party was 140 years ago when William Gladstone returned to lead the Liberals, although some party leaders have had two stints as prime minister, including Sir Winston Churchill and Harold Wilson.

The final months of Mr Johnson's time in office were dogged by accusations he had broken ministerial rules by not telling the truth about Covid lockdown-busting parties in Downing Street.

He remains under investigation by the Parliamentary Standards Committee, which could, in theory, lead to him being suspended from Parliament, or even being kicked out as an MP.
Mr Johnson has

yet to officially announce he will stand. The only contender to break cover so far is cabinet minister Penny Mordaunt who came third in the last leadership election.

Will Walden, a former press secretary to Mr Johnson, told Sky News Mr Johnson is "clearly taking soundings" on a leadership bid.

In his final appearance at Prime Minister's Questions in July this year, Mr Johnson signed off with "hasta la vista, baby".

He could only have dropped a heavier hint that he was not finished yet if he had used another catchphrase from the Terminator films: "I'll be back."

Mr Johnson won the 2019 general election - and under the British constitution the party in power can change leader without another election.

Ms Truss was elected by Conservative Party members, who may get the final say in this latest contest, if two contenders remain after MPs have voted.

One of his most loyal supporters, Business Secretary Jacob Rees-Mogg has launched a social media campaign to get him back in Downing Street, and dozens of Conservative MPs have publicly backed him.

Defence Secretary Ben Wallace, seen as an influential force in the Conservative party, told the BBC he was "leaning towards" supporting Mr Johnson.

Party rules for the leadership contest mean hopefuls need the backing of at least 100 Tory MPs by Monday afternoon to stay in the race.

On the face of it, this is no small task for a man who had 148 of his colleagues vote against him in a confidence vote in June - followed by nearly 60 ministerial resignations one month later.

The deluge of resignations followed revelations that Mr Johnson had ignored accusations of sexual misconduct against Chris Pincher before appointing him deputy chief whip.

On 5 July, two senior cabinet secretaries resigned within minutes of each other - including then chancellor Rishi Sunak, who left claiming Mr Johnson was not competent or serious.

Mr Johnson held on for two more days before announcing he agreed to stand down.

But before the resignations pressure had been building on Mr Johnson for criticism over his handling of parties that took place in Downing Street during Covid lockdowns.

Mr Johnson was one of 83 people fined by police for a string of illegal parties - including a birthday party for Mr Johnson.

Questions of integrity and personal conduct brought down Mr Johnson. Could MPs who found him unsupportable six weeks ago find him acceptable now?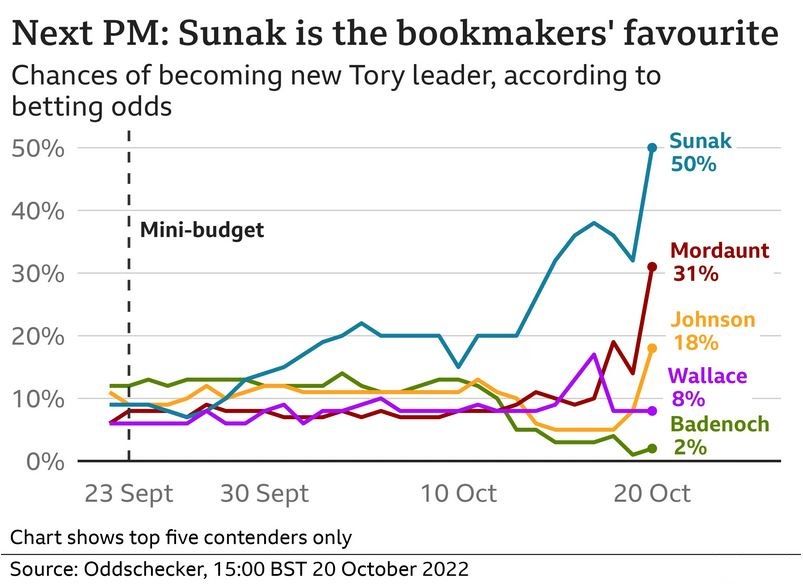 Tory MP Sir Roger Gale has said he will resign the party whip if Mr Johnson is voted back in as prime minister.

Sir Roger, a frequent critic of Mr Johnson, suggested to Times Radio other colleagues were threatening to do the same.

Foreign Office Minister Jesse Norman, a former friend of Mr Johnson, said "choosing Boris now would be - and I say this advisedly - an absolutely catastrophic decision".

Four times Johnson has bounced back

*  In 1987, Boris Johnson was fired by The Times for falsifying a quote - but was hired the following year by The Daily Telegraph, as the paper's Brussels correspondent

*  In 2004, he was fired as the Conservatives' shadow arts minister for lying about an affair - but was back on the front bench a year later

*  In 2016, he pulled out of his first bid to be Conservative leader and prime minister after his close friend Michael Gove launched a rival bid - but he made a surprise comeback as foreign secretary under eventual winner Theresa May

*  In 2018, he quit Mrs May's cabinet in protest at her Brexit deal, only to return as leader of the party the following year, going on to win a huge majority at a general election

Opposition parties have also been quick to condemn suggestions Mr Johnson might make a comeback.

Labour leader Sir Keir Starmer said the former prime minister was "unfit for office". Scotland's Frist Minister Nicola Sturgeon called a Mr Johnson return a "ludicrous suggestion".

He was described as "Britain's Berlusconi" by the Liberal Democrats who are attempting to block Mr Johnson becoming prime minister through a motion in parliament.

Mr Johnson has kept a surprisingly low profile since leaving office. He has spoken sparingly in the House of Commons and spent the past few weeks doing a speaking tour of the US before heading on holiday.

But as Mr Johnson's biographer Andrew Gimson points out he is not the sort of person to "live a life of blameless obscurity".

Johnson 'has the edge'

If only a single candidate emerges the contest will be over on Monday - if not the new leader will be chosen by a vote from party membership on Friday 28 October.

Polls taken in the final days of Liz Truss' premiership have consistently shown Mr Johnson as the most popular successor.

Patrick English, Associate Director of polling company YouGov, said the Conservative party are calling out for "someone who can provide unity and pull the party back together and compete again (Labour leader) Keir Starmer.

"If you ask the members who that could be - it is Boris Johnson," Mr English said.

"If Mr Johnson goes to the final two, he's got the edge."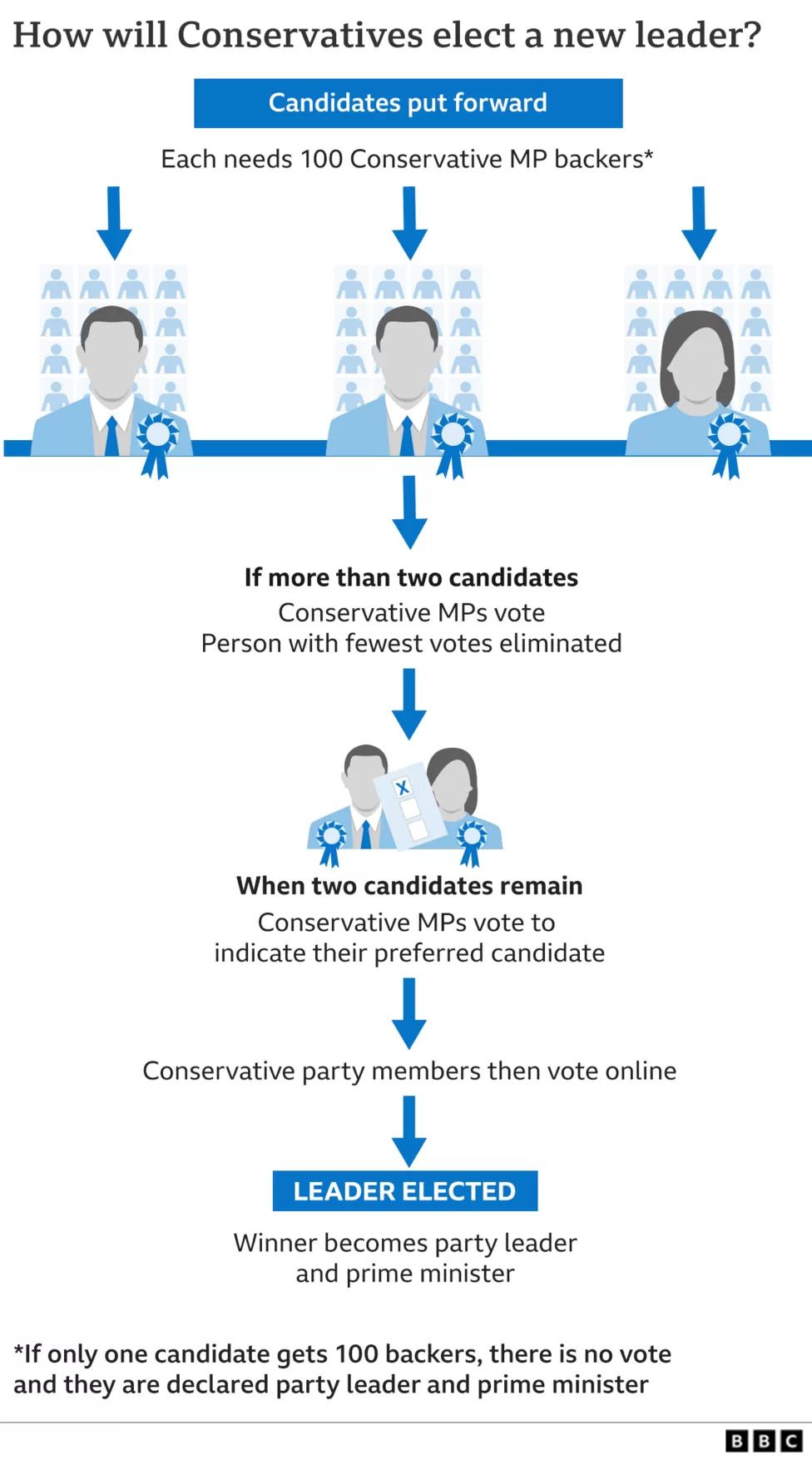 Johnson bids farewell at PMQs saying: "Hasta La Vista baby"