Barristers have voted to go on an indefinite, uninterrupted strike in England and Wales from next month.
The walkout by members of the Criminal Bar Association (CBA) will begin on 5 September.

Until now, members have been striking on alternate weeks in a dispute with the government over pay, working conditions and legal aid funding.

The strikes are expected to delay thousands of cases, leaving victims and the accused waiting longer for justice.

The CBA is asking for a 25% rise in pay for legal aid work, representing defendants who could not otherwise afford lawyers.

Members have rejected the government's 15% pay offer, saying it would not kick in immediately or apply to existing cases.

The current strike action means members are already scheduled to strike on 30 August, meaning members' last working day will be on Friday.

Out of 2,273 votes cast, an overwhelming 1,808 members (79.5%) voted to escalate the strike, while 258 were in favour of continuing the current action, and 207 in favour of stopping all action.


Today's vote in favour of a walk-out will not just affect more than 70 Crown Courts across England and Wales - it will delay justice.

Given very few of us ever see the inside of a courtroom, why does this matter?

If hearings or trials cannot take place because there are no barristers present to represent defendants, there won't be any trials in which criminals are sent to prison and those who are innocent are acquitted.

Victims, like defendants, will be left in limbo, unsure when they will see justice.

Tentative plans to broker a deal behind the scenes by bringing forward payments have failed - partly because there is simply no trust between the profession and ministers who won't meet them.

Quite simply, this strike has been years in the coming. Criminal barristers are incredibly angry - and it's very hard to see how this stand-off can be resolved any time soon.

Kirsty Brimelow QC, vice-chair of the Criminal Bar Association, said the strike action was a last resort.

She told BBC Breakfast: "Barristers have had to endure collapses in their income and cuts and underfunding so that their income has decreased over 28% since around 2006."

A solution to the dispute would be an "injection of money" into the cases barristers were working on, she added.

"The remedy is for an injection of money into the backlog of cases, which currently stands at 60,000 cases, that barristers are working on, that will cost the government only £1.1m per month," Ms Brimelow said.

"Currently, it's costing much more for the courts to sit empty."

Justice Minister Sarah Dines said the decision by barristers was "irresponsible".

"The escalation of strike action is wholly unjustified considering we are increasing criminal barristers' fees by 15%, which will see the typical barrister earn around £7,000 more a year," she said.

Downing Street said it was a "disappointing decision" that would "force victims to wait longer for justice". A No 10 spokeswoman urged the CBA to "rethink" their plans, saying the government had set out a pay rise for September.

Opposition leader Sir Keir Starmer - a former barrister - said the government was doing "absolutely nothing" to resolve industrial disputes, including the row with criminal barristers.

"I quite understand, whether it's barristers or others, why people and how people are struggling to make ends meet," he said.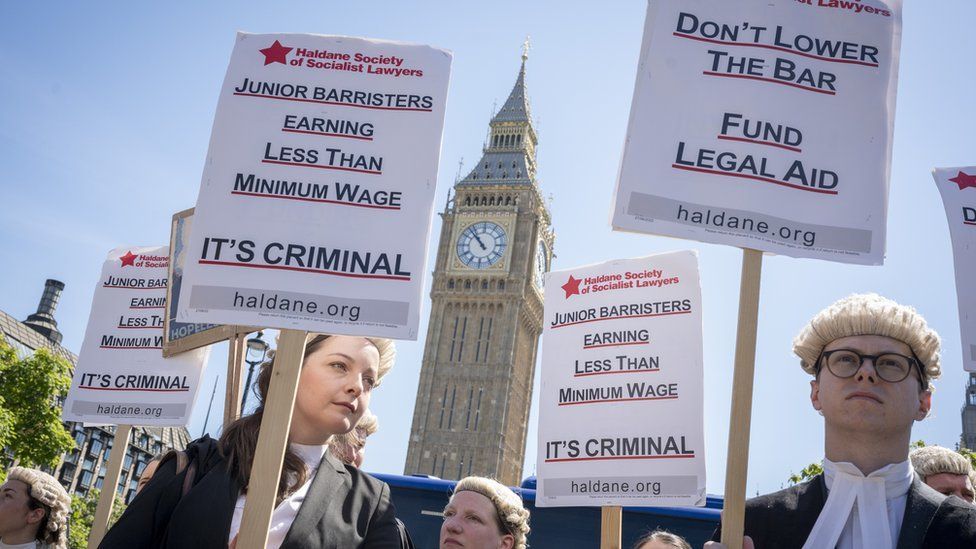 Michelle Heeley, a criminal barrister, told BBC's Five Live the justice system was "crumbling" because of a lack of increase in pay.

Responding to comments that criminal lawyers were perceived to be well paid, she admitted those high up the pay scale were "very fortunate". But she said the median pay for a junior barrister was £12,700 per year.

"That's why they cannot survive doing criminal work, and that's why they're walking away," Ms Heeley said.

Dame Vera Baird, the Victims' Commissioner for England and Wales, said more victims could drop out of cases due to court backlogs.

"The under-funding of the courts, which has been systemic since long before the pandemic, is already leading to a lot of people thinking that their lives can't remain on hold any longer and they are dropping out," Ms Baird told the BBC.

"That is inevitably going to happen more."

More defendants who may be guilty could also end up walking the streets, she warned.

"People can't be kept in custody however grave their behaviour is alleged to be, for a long time."

According to Ministry of Justice (MoJ) figures, more than 6,000 court hearings have been disrupted a result of the dispute over conditions and government-set fees for legal aid advocacy work.

Courts in England and Wales are already dealing with a large backlog of cases, made worse by the pandemic - figures from HM Courts and Tribunal Service at the end of April show there were 58,271 cases waiting to go to trial.

Some 6,235 court cases were disrupted during the first 19 days of industrial action between 27 June and 5 August - including 1,415 trials - according to the government.

How much do criminal lawyers earn?

Barristers are self-employed and often perceived as highly-paid.

The median salary for a criminal barrister in the year 2019-20 was £79,800, according to an independent review.

But that figure falls to a range of £55,900 to £62,900 once expenses are accounted for.

Meanwhile, new criminal barristers can earn as little as £9,000 once costs, including transport, are factored in, while some barristers say the time they spend preparing cases means their hourly earnings are below minimum wage.

Barristers with zero, one or two years of practice earned a median of £25,100 before expenses and a net figure of £18,800 after expenses.

Lawyers who work in other areas, such as private corporate law, can expect to earn £100,000 a year from very early in their careers.