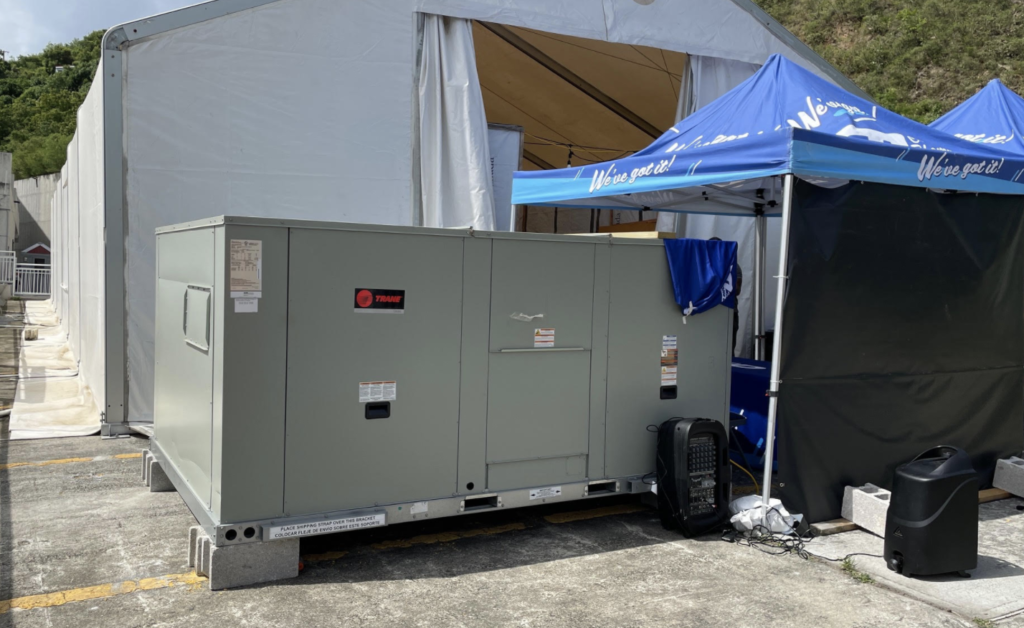 CTL donates a 25-tonne AC unit to hospital's outdoor testing hub
Through its affiliate, Tropical Air-Conditioning, CTL Home Center has offered a breath of fresh air to the BVI Health Services Authority (BVIHSA) with the donation of a 25-tonne AC unit yesterday, August 24.
The AC unit was donated to assist healthcare agents responsible for COVID-19 tests and those getting tested at the Dr D Orlando Hospital's outdoor testing area located inside a tent at the facility's parking lot.

Michael Thomas, General Manager at CTL, said he was moved to make the donation after testing positive for the virus a few weeks ago and being required to do a follow-up release test at the hospital's tent.

"We came up to the hospital to do our release testing and when I walked inside the area with the healthcare professionals all clad in their PPEs (Personal Protective Equipment), and literally sweating, I turn to the nurse and I said, 'Is this normal?'" Thomas shared.

According to the CTL boss, the nurse responded: "Well, this isn't just normal, today isn't such a bad day'."

Thomas said he then questioned how the healthcare workers could function properly in light of the heat in the enclosure.

He said he subsequently made plans to have an air-conditioning unit placed in the space.

Manager for Tropical Air Conditioning, Ariel Smith said the unit was ordered and delivered within two weeks, but explained that an ideal unit for the testing centre may have taken up to six months to manufacture.

Acting CEO of the BVIHSA, Cedorene Malone-Smith, thanked the entities for their timely donation and stated that the BVIHSA could not achieve their goals alone.

"Having public-private partnerships to help us to get where we need to go, and to improve our services is what we need," Malone-Smith stated.

She said the community health team has been working in the tent since March 2020 and has been doing tremendous work along with a team from Cuba.

Meanwhile, Health Minister Carvin Malone said he was particularly pleased with the level of corporate contributions that the CTL Home Center continues to make to the community.

Malone called the donation timely, and said it was critical in moving the testing hub forward, especially given the context of a recent COVID-19 spike of cases in the territory where more than 21,000 tests had been conducted at the location.