After nearly four decades in the Royal Virgin Islands Police Force (RVIPF), Deputy Commissioner of Police (DCP) Alwin James has announced his retirement as a law enforcement officer.
Mr James informed his colleagues of his bombshell decision to retire via a letter, which has since been obtained by our newsroom.

It is unclear when will be Mr James' last day on the job.

"I have made the decision after almost 37 years of service to the people of this territory and the force to end my career as a law enforcement officer. It is with sadness that I officially share my departure with all ranks and support staff that has served with me for the past years," the letter stated.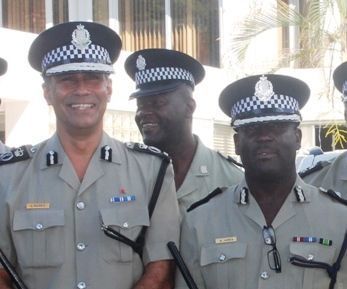 Mr Alwin James (right) was confirmed as Deputy Commissioner of Police (DCOP) within the Royal Virgin Islands Police Force (RVIPF) in 2013. At left is former Commissioner of Police, David Morris.
We overcame many adversities'- DCP James

Mr James said the RVIPF was faced with many challenges and overcame many adversities during his tenure.

"I love this noble profession and is grateful for the rewarding and successful career over the years."

He also thanked the RVIPF for giving him support during his time in leadership.

"There were some traumatic experiences like the murder of Constable Rawlins and wounding of Ag. Sergeant Browne in 1985, shooting of Chief Inspector Jacob George in 1996, hurricane Irma in 2017 and others that will never be forgotten by me. We stood as a family and supported each other," Mr James stated in his letter to colleagues.

DCP James was appointed Acting Deputy Commissioner of Police in 2012 and was promoted to the rank substantively in late 2013. He served as Acting Commissioner for an extended period in 2015 and played a critical part in the response to the catastrophic hurricanes in 2017.

He was awarded the Queen's Police Medal in Her Majesty the Queen's 2021 New Year Honours.