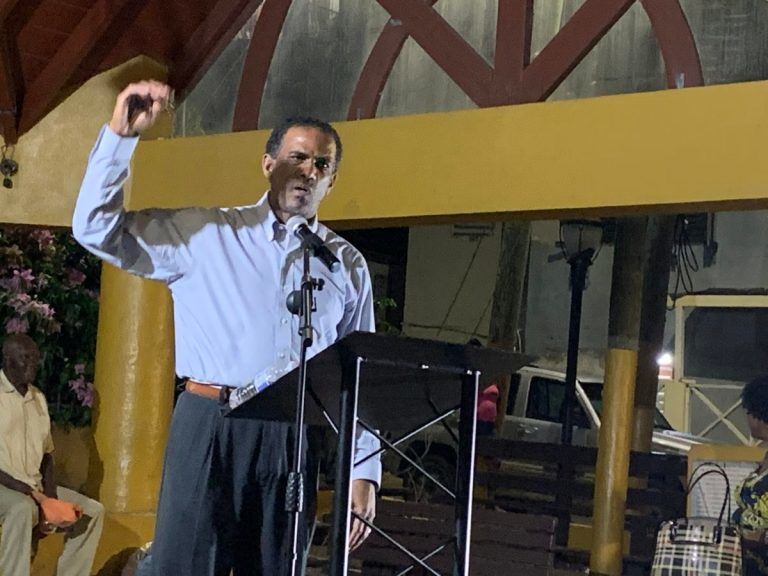 Dr Pickering shifts gear! To contest next election as At-Large candidate
Former Deputy Premier and Seventh District Representative, Dr Kedrick Pickering has announced he will throw his hat in the ring as a Territorial At-Large candidate in the next general elections.
Dr Pickering made the announcement at his campaign launch at The Stickett Thursday night. He said people have said his time in politics has passed so he should give others a chance. And while the former legislator said this was a valid criticism, he said there is a flip side to it.

"I have heard people say that this country is in a difficult position, and we need a couple of experienced knowledgeable people to navigate us through these difficult times. And anywhere you turn it, there are merits to both sides of the debate, and I am standing here to tell you that since I spoke here on the sixth of April, I have had a change in mind about my approach to politics," Dr Pickering said.

At his last political announcement back in April, Dr Pickering was gearing up to reclaim his district representative seat which was wrestled away from him by Premier Dr Natalio Wheatley at the last general election. However, the former District Seven Rep said a lot has changed since then.

"I am announcing this evening that I will run in the next election as an At-Large territorial candidate and ultimately, I will support somebody in this district who is fresh, full of energy and can take on the issues in this district, but I know that I have the knowledge, the experience and the expertise to help navigate this country through its difficult issues. The issues that confront us with the United Kingdom, the issues that confront us in the regional and international world," Dr. Pickering said.

"The issues that confront us with respect to the post-pandemic world. The issues that affect us as it relates to climate change, whether you believe climate change exists or not. The storm that passed there over the weekend is now a category four hurricane now approaching Bermuda and beated up Turks and Caicos. Now there is another one brewing in the west. Whether you believe it or not, those things are very real, and we must do our part to help this country survive and navigate these issues," he added.

He urged those in attendance to ignore what he described as 'small talk', adding that he still believes he can help his country. While the former Deputy Premier also announced that he plans to contest the elections with a group of people, he did not indicate the group or political party.

"I will support someone in the district but this is what I want to say to you tonight. Hear this loud and clear. When the election comes around, you will have your five votes. You can vote for who you want in the district. Do that and I will support someone also. But I will ask every single person in my community, every single person whether you like me, whether you hate me, whether you vote for me the last time, whether you want to see me in politics or not, I am begging you for a vote – one of your At-Large votes in the next election because I will be one of the four candidates that will be seeking to serve this country as an At-Large Representative," Dr Pickering said.

"A number of people have said to me from West End, East End, Virgin Gorda, that they think I should consider running At-Large because they believe I have the ability to deal with the bigger issues, to well articulate the issues and help our country articulate these issues and I thought about it, and I am committed to making that happen. But I am going to ask you, every single person in my community to give me a vote when I get around to do that and I will come around to beg your vote when the time comes," he added.