Deputy Premier and Minister for Education, Culture, Youth Affairs, Fisheries and Agriculture, Dr. Hon. Natalio D. Wheatley (R7) has slammed members of the Opposition for being constantly negative towards the sitting government.
"As a part of government we may give criticisms behind closed doors and we might hash it out and fight it out and try to get to a better position. So criticism is healthy but we have a certain kind of criticism which is disruptive and which is deceptive to the public and it is a type of criticism where it is self-serving," he said to his Opposition colleagues on Wednesday, December 15, 2021 during the 2022 budget debate.

Hon Wheatley said the self-serving criticisms may be coming because the Opposition is trying to gain power, "I think we have to keep away from that type of thing," he said.

The VI Opposition is made up of a Leader, Hon Marlon A. Penn (R8), Hon Mark H. Vanterpool (R4), Hon Julian Fraser RA (R3) and Hon Melvin M. Turnbull (R2).

Dr the Hon Wheatley added, "We have to work our best to try to build the Virgin Islands; we cannot mislead persons and we cannot deceive them and some persons may see that as their job, they describe it as their job, but I don't really see this as our job as representatives. I think we should be as honest as possible and say the truth as we understand it."

He said the politics "has become more toxic" and that he despises when a party wants to get into power or wants their friends in power, they "tend to be extremely negative about everything," Dr Wheatley said.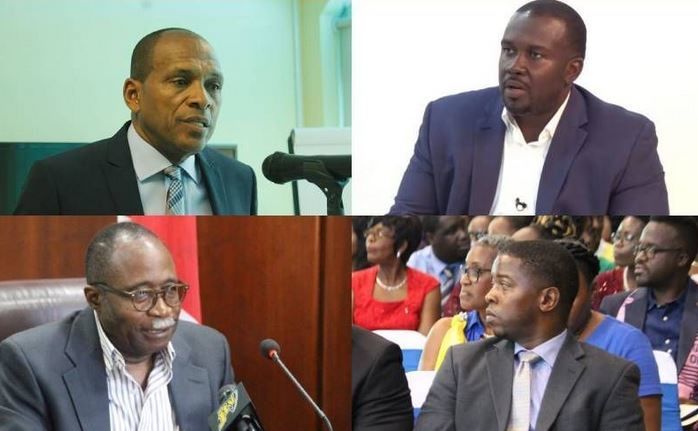 The VI opposition is made up of Leader Hon Malon A. Penn (top right) and opposition members Hon Julian Fraser RA (bottom left), Hon Mark H. Vanterpool (top left) and Hon Melvin M. Turnbull (bottom right).
Focus on your vision - Dr the Hon Wheatley

"In my view, if you want to justify [that] you want to be in office let the people know what your vision is, focus on your vision for the Virgin Islands, focus on what you want to see. The difference between what this administration is doing and what you would do; instead of being negative about everything and just looking for things to happen, I don't think its progressive and I don't think it helps the people at all."

The Deputy Premier said when the VIP administration succeeds, the entire VI succeeds.

"You have Opposition members who probably figure that if they asked the question or they went and they made a statement to the media that they are responsible for the progress that takes place in a particular area."

"I don't think that is a mature way to look at it I think Mr. Speaker, we have challenges in our communities whether you are an Opposition member, whether you are a backbencher or a ministerial colleague. Let's have a conversation," he said.

Hon Wheatley however, extended congratulations to Hon Vanterpool for his position of being a politician but a statesman and said Mr. Vanterpool is not afraid to give criticisms and praises when it is deserving, and this he says, is the posture that all Legislators should take.