Honestly Speaking talk show host, Claude O. Skelton-Cline has called on the Virgin Islands to rally behind local athletes and offer more financial support, rather than just offering lip service.
Skelton-Cline made the comments on the Thursday, April 19, 2022, edition of his ZBVI 780 AM talk show, where he noted, "The entire country is guilty, all governments over the last 20 years are guilty of not doing the job and not making the level of investment in the sporting industry around our athletes, our that we could and that we should," he said.

The talk show host continued, "We do offer a lot of lip service and we do speak of how proud we are once they have gone off and they excel, but the truth of the matter is, and we must be honest, we must be intellectually honest with ourselves."

Pointing to regional countries like Jamaica and Barbados, he said you can tell how a country views the seriousness of a particular area of investment, based on how much money and resources are injected into that particular area.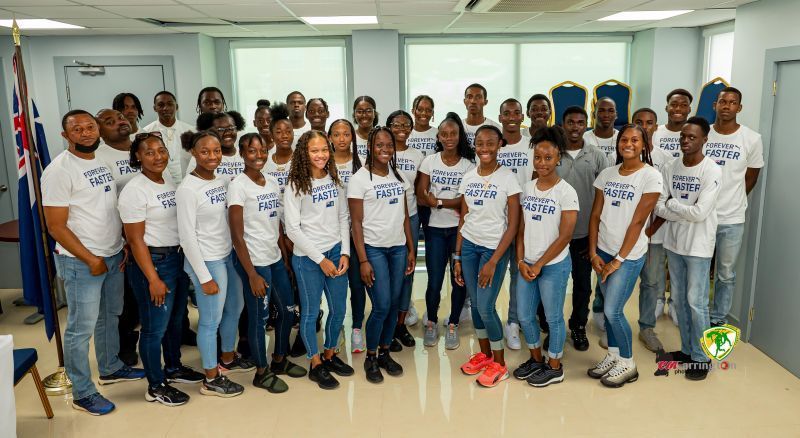 Athletes and some Officials who attended Jamaica for the 49th CARIFTA Games.
Opportunity to extend VI's brand

Skelton-Cline added that the entire sporting industry as well, is a wonderful opportunity to enhance and enlarge as well as extend the brand of any country on the global platform.

"And we must offer more than lip service… we must up the ante and not just have these one off payments and one-off awards that we make to our young people who have the particular gift," he noted.

Skelton-Cline said supporting athletes develops cultural and nation-building as well as the countries' branding, "all of this, that the whole sporting industry, the whole entertainment industry is so critical in helping to give visual aid and an excellent demonstration of who your people are on a global stage," he added.

"We must all hold ourselves accountable and hold ourselves guilty, for not making the levels of investment in this area, in our country, across governments that we should be making," Skelton-Cline said while calling for change in the area.

The Virgin Islands win 7 medals, including 4 gold medals at the just conuded 49th CARITFA Games. The VI also placed third overall.