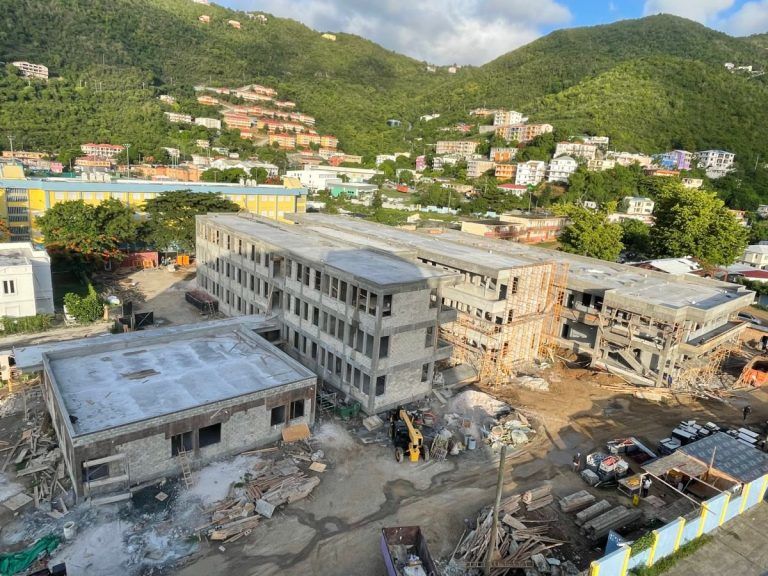 ESHS reconstruction project to wrap up very soon — Premier
After contractors suffered delays with the shipment of construction materials for some time, work on the Elmore Stoutt High School reconstruction project is now expected to come to a close very soon, Premier Dr Natalio Wheatley said recently.
The delays reportedly helped to push back the reopening of the new school building which was previously slated to happen sometime this month.

Students of the high school, while currently operating on a shift system between the junior and senior sections, are now all on the same campus after previously being split between the Lower Estate campus and a facility at the old Clarence Thomas building in Pasea Estate.

At a recent first conference, Premier Wheatley said contractors were awaiting some windows, doors and paint, and expected these items to be delivered over the past weekend.

He said once these items have been delivered, the project should conclude by the expected date that had been published by the Recovery and Development Agency (RDA).

"Some delays in the shipping delayed the project, but again, I want to congratulate the RDA and all the contractors for the wonderful pace of work that they have done there and I expect once that the paint, the windows and the doors arrive, that that project will be wrapping up very soon," the Premier told reporters.

The Premier previously urged members of the community to look at the positives in the pace of the construction work instead of focusing on the negatives caused by the delayed opening.

"If it is late a month or a few weeks, certainly we can't let that overshadow the fact that the students would have more accommodations and be able to shift from the Clarence Thomas building in Pasea. It is a warehouse. It is not designed to be a school. Certainly, that is progress, and I certainly will not let any person dampen my spirit for the progress that has been made on that project which is really record time," he added.

When the work commenced in April, more than $11 million worth of contracts were awarded to four construction firms for the redevelopment project.