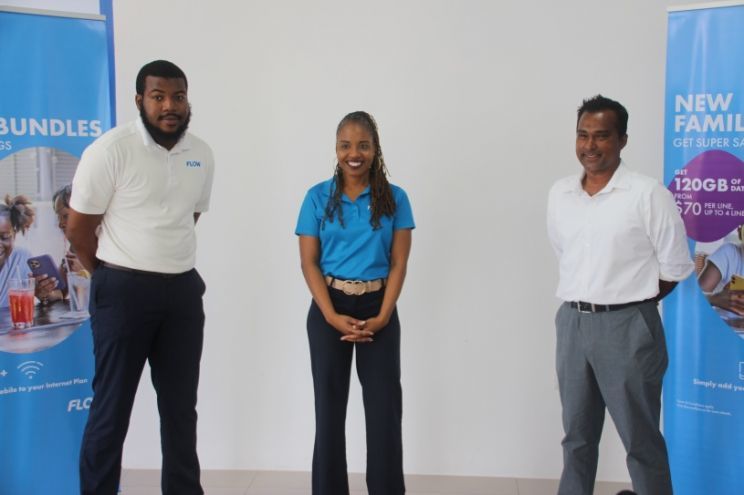 FLOW Full Steam Ahead With Upgrades, Adds New Family Plan
Telecoms provider FLOW is reportedly moving full steam ahead with its promised systematic upgrades that will ensure that customers benefit from top-notch internet service across the British Virgin Islands.
FLOW's Country Manager Ravindra Maywahlall told reporters on Thursday, March 25, that the company is investing heavily into the overhaul.

"Back in November 2019, when I launched the Christmas campaign, I had indicated to the media that by the end of December of this year, I had expected to get back to 100 per cent of the fixed footprint that we had prior to the storms. We are well on track for that and maybe ahead of that," he stated.

He continued: "This year alone, we are investing $1.5 million. From 2018 to now, that is closer to $15 million. It's not just the fibre you see on the poles, we have to upgrade our core infrastructure, the various exchanges around the island."

Maywahlall further said that the company plans a total upgrade from copper to fibre across the board.

"My customers should be happier. My objective is definitely at the end of this year all the homes in the BVI will be passed with Cable and Wireless fixed infrastructure, and by June of next year, the absolute latest every single home will have fibre passing or into them."

With fibre optic installed, it would pave the way for the company to offer better broadband entry level from 50 megabytes to 100 megabytes and speeds of up to a gigabyte, he pointed out.

"To the best of my knowledge, gigabyte internet is only being offered in Barbados, so this will put us on the forefront and as a market leader where broadband technology and speeds are concerned."

FLOW's Country Manager added that the move is also to facilitate the BVI government's vision of tapping into new revenue streams where reliable connectivity and speed is paramount.

"It is something that is required because as cellphones, computers, education advances broadband connectivity is key for all facets of life these days," he reasoned.

Additionally, FLOW will be introducing family plans where families can access 120 gigabytes for $70 per SIM, with a maximum of four users on an all fixed service.

If persons are interested in getting mobile plans alone, they are able to do so with 60 gigabytes for $70.