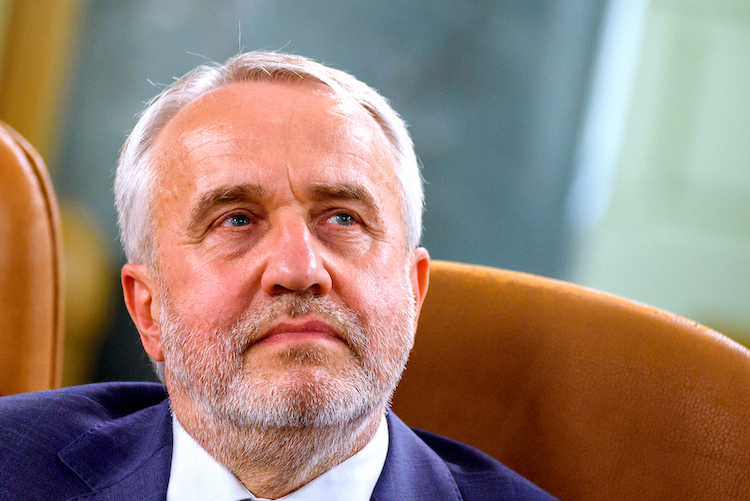 Former Latvian Prime Minister Skele charged with money laundering
Latvia's former politicians Andris Skele and Ainars Slesers are facing criminal charges that have been brought against them as part of a criminal probe into the so-called digital TV case, LETA learned.
Aiga Eiduka, a spokeswoman for the prosecutor's office, told LETA that one of the persons charged in this case is being suspected of large-scale fraud and money-laundering. Information obtained by LETA suggests that this person is former prime minister Andris Skele.

Former transport minister Slesers, meanwhile, has been charged with large-scale fraud.

No measures of security have been imposed on the two persons.

Skele released a statement to the press on Monday saying that he considers the charges against him baseless. In Skele's opinion, the prosecution's interpretation of events around the public tender that was held in 2008 to introduce digital terrestrial television in Latvia was biased.

"I had no reason to think that I am suspected of criminal offenses in connection with these events, because in the last 12 years, leading up to March this year, I was never summoned to testify in this criminal probe," Skele said.

Skele promised to do everything to make sure that his case is investigated swiftly and impartially. He also promised to provide law enforcement authorities with all information at his disposal.

Skele also urged the authorities to forward his case to court as soon as possible.

The ex-premier said that for the sake of the investigation's integrity he would not give more comments for now.

Slesers also released a statement shortly before the news of his indictment broke. In his statement, Slesers said he was seriously considering a political comeback. He also said he was greatly surprises that he is being called to account for his role as the then transport minister in the 2008 digital TV tender which was won by Lattelecom. He also stressed that Lattelecom has never been under the Transport Ministry's supervision and that the telecommunications company was supervised by the Economics Ministry.

As reported, Juris Gulbis, the former CEO of Tet telecommunications group, and four other persons have been charged in the aforementioned digital TV case.

In November 2020, TV3's investigative news program Neka Personiga (Nothing Personal) reported that the Prosecutor's Office had charged Gulbis and four other persons of possible participation in fraud in the introduction of digital television, estimating the damage caused to the company in the amount of EUR 7,585,533.

According to the case, the successor of Kempmayer, Hannu Digital, was fraudulently involved in the digital television project and Gulbis misused the trust of the owners and council of Lattelecom (now Tet).

According to the TV3 report, the transition to digital terrestrial broadcasting was planned 20 years ago when Skele was Latvia's prime minister. Investigators probing the project believe that it was planned as a fraudulent deal centered around Kempmayer Media Limited, a London-registered shell corporation with owners hidden in offshores. The scam came to light in 2003 and 20 persons were charged in the criminal probe.

The Arbitration Institute of the Stockholm Chamber of Commerce also found that Kempmayer had been established as a shell corporation and ordered the company to pay Latvia more than EUR 5 million. Businessman Andrejs Ekis, who had organized the composition of Kempmayer shareholders, paid the fine with money lent by Skele, TV3 reported.