Information just reaching our newsroom is that former Governor of the US Virgin Islands (USVI) Dr Charles Wesley Turnbull died this morning, Sunday, July 3, 2022.
According to reports, Dr Turnbull passed away in Maryland, USA. He was 87 years of age.

The late Turnbull, who was elected governor in 1998 as a Democrat, went on to serve two four-year terms, beginning his tenure in January 1999.

VI Belonger

The sixth governor of the USVI was born February 5, 1935, in Charlotte Amalie to John Wesley Turnbull and Ruth Ann Eliza Skelton Turnbull who were both immigrants from the [British] Virgin Islands.

He was one of the few governors of the USVI who was a Belonger of the [British] Virgin Islands.


Close connection to VI

Dr Turnbull frequented the VI, including as the executor of lands at Paraquita Bay.

He was the keynote speaker at the renaming of Little A. Race Track to Ellis Thomas Downs in 2009.


Fmr Speaker Willock offers condolences

Former Speaker of the VI House of Assembly Mr Julian Willock told our newsroom that he was saddened this morning when he received a call that the former USVI Governor had passed.

Mr Willock noted that Dr Turnbull was a longtime friend, political mentor and also a member of his fraternity Alpha Phi Alpha Fraternity Incorporated.

"I have already conveyed to his family my own personal condolences and I know the Government of National Unity will also do the same in conveying to the family and the people of the US Virgin Islands their condolences," Mr Willock stated.


Turnbull started career as a school teacher

Prior to holding the top office in the USVI, Dr Turnbull was a professor at the University of the US Virgin Islands, Commissioner and Assistant Commissioner of the USVI Department of Education, Principal and Assistant Principal of Charlotte Amalie High School, and a teacher in elementary and secondary schools.

Dr Turnbull was elected Governor of the Virgin Islands in 1998 and served from 1999 to 2007. While in the position, he held membership in the National Governors Association, the Southern Governors' Association, and the Democratic Governors Association.

In 2011, the Legislature of the Virgin Islands honored Turnbull by naming a new public library in Estate Tutu, St. Thomas, "The Charles Wesley Turnbull Regional Public Library. In addition, he was awarded the Virgin Islands Medal of Honor, the Territory's highest honor.

At the 51st Commencement of the University of the Virgin Islands in 2015, Dr Charles Wesley Turnbull was awarded an Honorary Doctorate.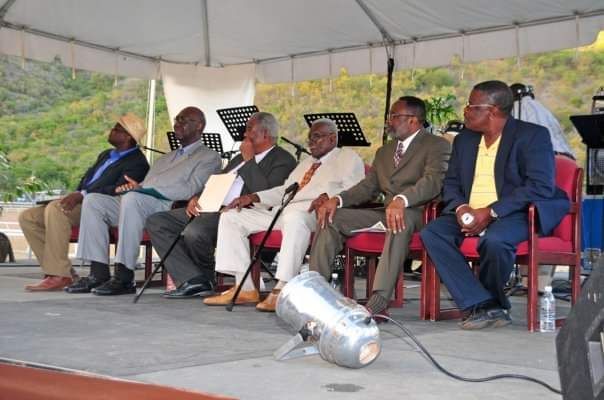 The late USVI Governor Dr Charles W. Turnbull was the keynote speaker at the renaming of Little A. Race Track to Ellis Thomas Downs in April 2009. From left: Former Speaker Julian Willock, former USVI Governor Turnbull, former Premier Ralph T. O'Neal OBE, Mr Ellis Thomas, Hon Julian Fraser RA and then President of the VI Horse Owners Association Mr Perry Penn.