Fox siblings Noah and Eva created some history when the Virgin Gorda leg of the 27th Mourant H. Lavity Stoutt Community College (HLSCC) College Classic Race Series kicked off on Saturday, October 1, 2022.
It was the first time in the history of the series that siblings have captured overall wins in the same race.

In the race of over forty participants, 16-year-old Noah Fox led the field overall in a time of 13 minutes 59.92, while his 12-year-old sister, Eva, captured the top female position in 17 minutes 05.76.

Ninth District Representative Honourable Vincent O. Wheatley also participated in the race, finishing 34th overall in a time of 26 minutes 34. 76.

HLSCC teamed up with the Valley Sound Lions Club and the Road Runners Track and Field and Cross Country Club during Race 1, which also served as a race in support of both Dementia Awareness and Breast Cancer Awareness.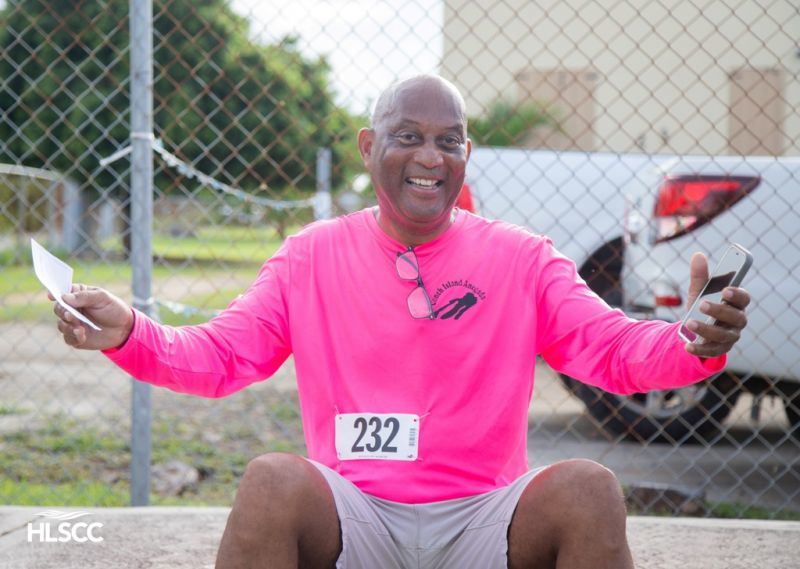 Ninth District Representative Hon Vincent O. Wheatley also participated in the HLSCC College Classic Series on Saturday, October 1, 2022.
Series returns to Tortola this Saturday

The series will continue with its return to Paraquita Bay on Saturday, October 2022.

This time the College will team up with the BVI Cancer Society and First Caribbean International Bank (FCIB) in support of their "Walk for the Cure".

Persons can pre-register for the race through the BVI Cancer Society or FCIB and can participate in either Road Town or Paraquita Bay at the specified times for each location.

The main sponsor of the HLSCC Race Series is Mourant, with Blu Water providing water at all races.

The series continues to be a green initiative as participants are asked to bring their own water bottle, while distributing of water otherwise is in reusable cups instead of disposable plastic bottles.

At Paraquita Bay, registration begins at 6:30 a.m. and the race begins at 7:00 a.m. For more information about the race series, persons can contact Mrs Stephanie Russ Penn via telephone at (284) 496- 7155 or via email at sruss@hlscc.edu.vg.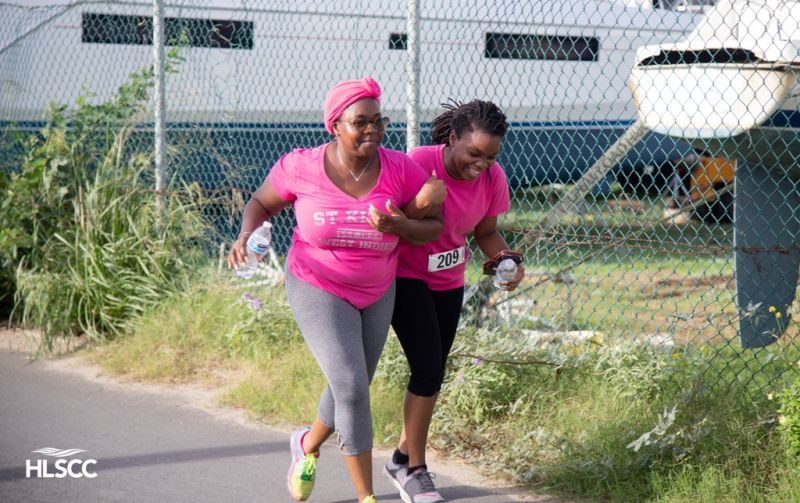 The race also served as an event in support of both Dementia Awareness and Breast Cancer Awareness.
Complete Results

OPEN 2 Mile Run: https://www.webscorer.com/race?raceid=292552

OPEN MALES 1. Noah Fox, 13:59.92. 2. Kristian Young, 14:06.68. 3. Curwin Andrews, 14:40.83. 4. Emrol Amsterdam, 14:44.57. 5. Callym McKendric, 14:50.46. 6. Colton Ridgway, 15:04.30. 7. Akil Nickie, 15:26.20. 8. Christopher Adams, 15:28.14. 9. Makelis Fergus, 15:35.87. 10. Andrew Yates, 15:38.82. 11. Kasean Wyllie, 16:31.28. 12. Dimitri Farrell, 16:42.69. 13. Benjamin Moore, 17:08.34. 14. Mark Moore, 17:41.16. 15. Nicholas Moore, 20:33.00. 16. Clinton Farrington, 23:10.45. 17. Hon. Vincent Wheatley, 26:34.76. 18. Xander Yates, 27:34.14. 19. Caiden Webbe, 32:02.61. 20. Sruti Ramsamooj, 42:52.64

OPEN FEMALES 1. Eva Fox, 17:05.76. 2. Lisa Redfern, 17:23.88. 3. Anna French, 17:29.34. 4. Kya Ridgway, 18:40.65. 5. Dikya Thomas, 18:42.62. 6. Debbie Ridgway, 19:00.70. 7. Sam'Asia Leonard, 20:22.57. 8. Kellyann Tillack, 20:48.71. 9. Brodie Faragher, 21:17.79. 10. Ciel Fox, 22:41.54. 11. Megan Farrington, 23:05.69. 12. Charlotte Bufton, 24:18.57. 13. Janique Williams, 25:35.08. 14. Kimberly George, 26:23.75. 15. J'Dae George, 26:24.88. 16. Leeyah Samuel, 26:24.94. 17. Rayon George, 26:34.07. 18. Christina Yates, 27:22.64. 19. Shanique Creque, 32:04.92. 20. Allonah Williams, 33:49.25. 21. Anelcia Simmons, 42:59.61. 22. Jakeila HarriganWilliams, 43:01.55.

Also participated was Lydia Plaugh and Roxanne Williams.