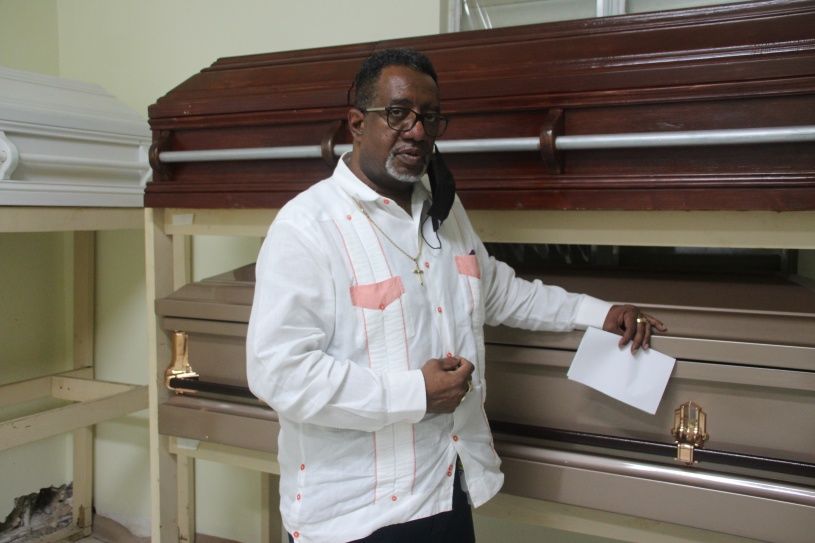 Funeral Home Grapples With Wave Of COVID-19 Deaths
Co-owner of the Davis Funeral Home Dr. Robert Wright said his company, which is the only funeral home in the territory, is trying to keep up with the inflow of COVID-19 bodies due to the recent upsurge in infections locally.
As of the last update, there were 23 overall deaths, but 22 in the last few weeks associated with the virus. There are currently 1,604 active cases.

"Basically with the spike in COVID-19 numbers, it has become incumbent upon us to find a way to serve people and still stay within the recommended guidelines by the World Health Organization(WHO), the Centre for Disease Control (CDC) and local government,' Dr. Wright told BVI Platinum in an interview on Wednesday.

He added "So we have been challenged with doing our best to serve the public and keep everything safe. With that in mind, one of the things which we have done because people are so concerned about seeing their loved ones is we have ordered caskets with plastic enclosures to cover the top so that people can see. They have not reached yet."

In the mean, he said they have inserted plexiglass into the caskets so that people can have closure of at least seeing their loved ones at the funeral establishment.

Dr. Wright explained that there is a backorder of caskets, body bags and personal protective equipment around the world due to the COVID-19 virus.

"We had seven caskets arrived last Wednesday, and usually that would take us in the BVI three weeks to a month to be used; they are all gone in a matter of two days. We have another shipment coming in this Wednesday, and we ordered 14, but currently, the hospital has 22 dead, so we are doing our best to keep up. We also engaged local wooden cabinet makers to make wooden caskets," he added.

He also revealed that there will be no public viewings until further notice because "We don't want to be the catalyst for a spread."

Dr. Wright said while the virus only lives on a surface for 76 hours, a public gathering could initiate a spread of the virus if there is a COVID-19 positive person.

He informed that all COVID-19 infected bodies are treated in accordance with the CDC and WHO recommended guidelines such as use of personal protective equipment, hand hygiene before and after interaction with the body. While there is a risk of staff contracting the virus through the process, Dr. Wright stated that proper techniques and disinfecting is a must and is being applied at the establishment.