German Chancellor Angela Merkel and French President Emmanuel Macron each announced month-long national lockdowns Wednesday, saying health authorities have lost control of skyrocketing new infections while hospitals fill rapidly.
The announcements came as governments across Europe struggle to contain a second wave of the virus in colder weather, even after the relative success of strict lockdown restrictions in the spring.

"We in Europe are all surprised by the propagation of the virus," Macron said in a televised address to the nation.

"The virus is circulating in France at a speed that even the most pessimistic forecasts had not anticipated," he said, adding that the number of infections had doubled in less than two weeks.

Germany has similarly witnessed a rapid deterioration of its virus response, after being praised in the first wave of the pandemic. The country's contact-tracing program, paired with mandatory quarantines, had been held up as a model of how to contain outbreaks. Now German health authorities are unable to identify where 75 percent of new infections come from.

"We no longer have control of the spread of the virus," Merkel said at a Berlin news conference, noting that the number of patients in the country's intensive care units had doubled in the past 10 days.

"If the tempo of infections stays the same, we will reach the capacity of our health-care system within weeks," she said. "That's why it's completely clear that we need to act and act now."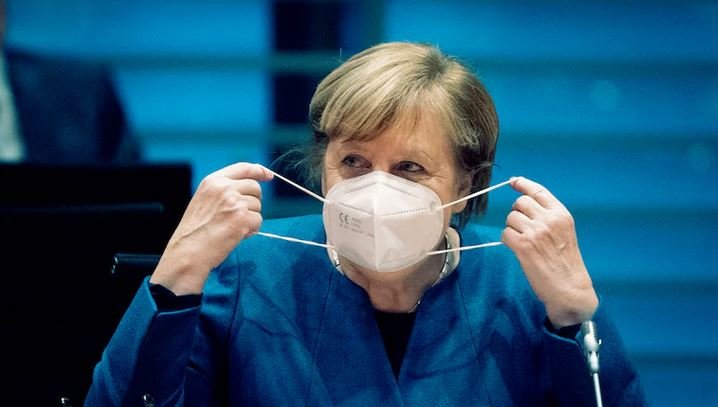 German Chancellor Angela Merkel arrives for a cabinet meeting at the Chancellery in Berlin on Oct. 28.

Starting Friday in France and Monday in Germany, restaurants, cafes and bars will close. In France, Macron said, residents will be permitted to leave their homes only for essential work or medical reasons and will be required to present "attestation forms" when they do. Leaders of Germany's 16 federal states also agreed to new restrictions on social contacts, limiting public gatherings to a maximum of two households, with a limit of 10 people.

Both Germany and France plan to keep schools open — a priority for many European countries in this second wave — and, unlike in the spring, nursing home visits will be allowed.

Countries across the continent have desperately sought to avoid the return of national lockdowns. Switzerland on Wednesday ordered clubs closed and added new mask requirements, hoping to head off the need for more comprehensive, economy-crippling measures.

But governments are finding that more targeted, piecemeal measures may not be sufficient. Appeals by both French and German leaders to reduce contacts in recent weeks failed to slow the growth of new cases.

A man walks through the streets of Lyon, France, on Wednesday.

France's new lockdown was a necessary last resort in the face of troubling figures, Macron said. "I have decided that we must return to confinement," he said. "The whole territory is concerned."

France on Sunday reported a record 52,010 new confirmed coronavirus infections from the previous 24 hours. It has also seen a steep rise in hospitalizations. On Monday, for instance, French hospitals tracked more than 1,300 new covid-19 patients, the highest one-day total since early April, in the peak of the first wave.

Macron talked his nation through all the options — including "herd immunity," which he said would result in at least 400,000 deaths, in a country with a population of roughly 67 million people, and which was therefore not acceptable.

"I do not believe in the opposition between health and the economy," Macron said, defending his decision to impose a second lockdown. "For us, nothing is more important than human life."

While Germany has greater ICU capacity than most countries in Europe and fewer daily cases than France, Spain and Britain, infections have been growing exponentially. Germany recorded 14,964 new cases Wednesday, doubling from just a week earlier.

Parties and gatherings in public and private spaces were "unacceptable," Merkel said. Social sacrifices must be made to ensure that schools can remain open, she said.

German industry groups said a new lockdown would be a "death blow." As Merkel and state leaders hashed out new measures over a video call, thousands of restaurant and bar owners marched to the Chancellery. A van pulled a coffin on a trailer with the words "Entertainment Sector" on the side.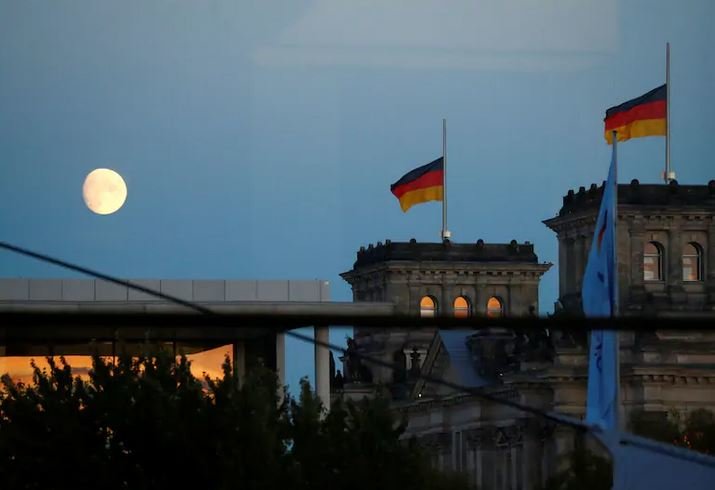 The moon is seen beside the Reichstag building, the seat of the lower house of parliament, the Bundestag, before a news conference at the Chancellery in Berlin on Oct. 28.


Germany said it will make an additional $12 billion available to compensate businesses affected by the closures.

The closures were a "very hard decision," Health Minister Jens Spahn, who himself contracted the novel coronavirus last week, told German radio. But it was necessary, he said.

"If we wait until the intensive care units are full, it will be too late," he said.

"We had predicted there would be this second wave, but we ourselves are surprised by the brutality of what's been happening over the past 10 days," Jean-François Delfraissy, an immunologist and the chair of the French government's scientific advisory covid-19 response board, told France's RTL radio on Monday.