A banking crisis and worries of a recession have dampened the outlook for initial public offerings (IPOs) this year, prompting companies to slow down their plans to go public in what is likely to result in lower fees for investment banks.
Despite a rebound in fundraising and block trading activity, year-to-date IPO volumes came in at their lowest level since 2019. Stock market flotations worldwide have raised close to $26 billion so far, according to data from Dealogic.

The lacklustre performance of some early IPOs, including that of German web hosting provider IONOS (IOSn.DE), combined with the stock market sell-off triggered by the collapse of Silicon Valley Bank, has forced several companies to delay the roll-out of their flotation plans.

Equity capital markets (ECM) advisers, however, are optimistic of a recovery in listing activity in the latter part of the year.

In the United States, IPO volumes jumped more than 50% from the fourth quarter of 2022, but were still 11% down from the same period last year.

IPOs briefly flickered back to life in February, as companies including solar tech firm Nextracker (NXT.O) and Chinese sensor maker Hesai Group (HSAI.O) pushed ahead with their listings.

"Realistically speaking, we're looking at the back half of the year as a starting point (for an IPO market reopening)," said Keith Canton, head of ECM for the Americas at JPMorgan Chase & Co (JPM.N).

A bright spot for IPOs was the energy transition industry, where the pipeline is expected to remain robust, according to IPO bankers.

"We (also) expect some high quality and long-standing consumer assets to emerge once market volatility dissipates," said Daniel Burton-Morgan, head of the Americas syndicate for ECM at Bank of America (BAC.N).

Further cross-border deals, including the long-anticipated IPO of SoftBank Group Corp's (9984.T) British chipmaker Arm, may also help boost U.S. volumes in 2023.

RECOVERY DELAYED

In Europe, investment bankers said the market volatility spurred by the banking crisis is likely to affect the pipeline of deals.

"What's happened with banks has led to a big pick-up in volatility in equity markets. Enthusiasm has fallen back again, but there will still be IPOs before summer – it very much depends on the individual company," said Andreas Bernstorff, head of ECM in EMEA for BNP Paribas (BNPP.PA).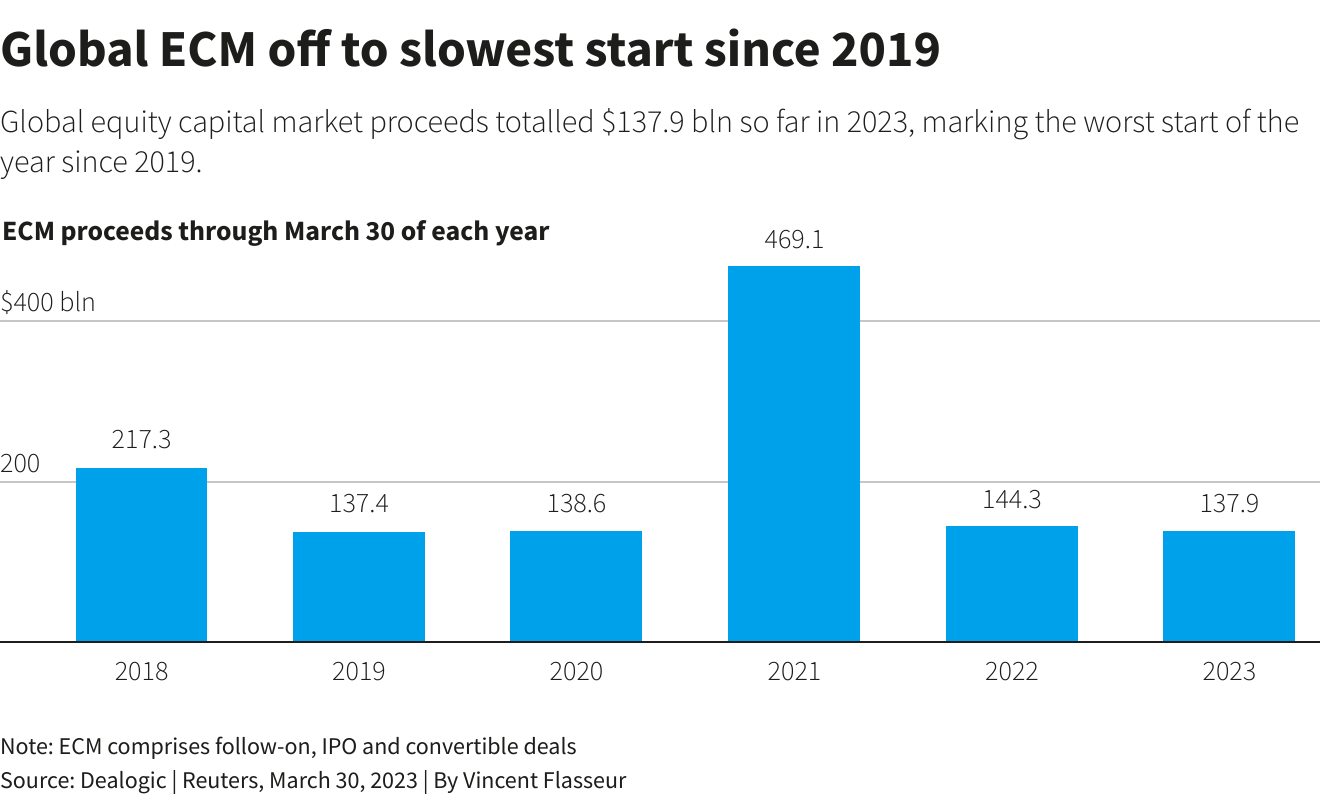 For instance, German lender OLB, backed by Apollo Global Management (APO.N), and Swiss skincare specialist Galderma, have put their IPO plans on hold due to the current market conditions, according to people familiar with the matter.

Some, however, are hopeful of a pickup in market sentiment before the next wave of deals are launched.

Gambling firm Lottomatica, which is also backed by Apollo and furniture group Italian Design Brands, are among a handful of companies that are still pushing ahead with their plans to go public in the second quarter, sources said.

Lottomatica is looking to sell upwards of 400 million euros ($435.08 million) of new shares to bring down debt, plus an undetermined amount of existing stock, sources added.

"Had these events (the banking crisis) happened this time next month, when the IPO window opens, that would've been a lot more damaging," said Lawrence Jamieson, head of EMEA ECM at Barclays (BARC.L).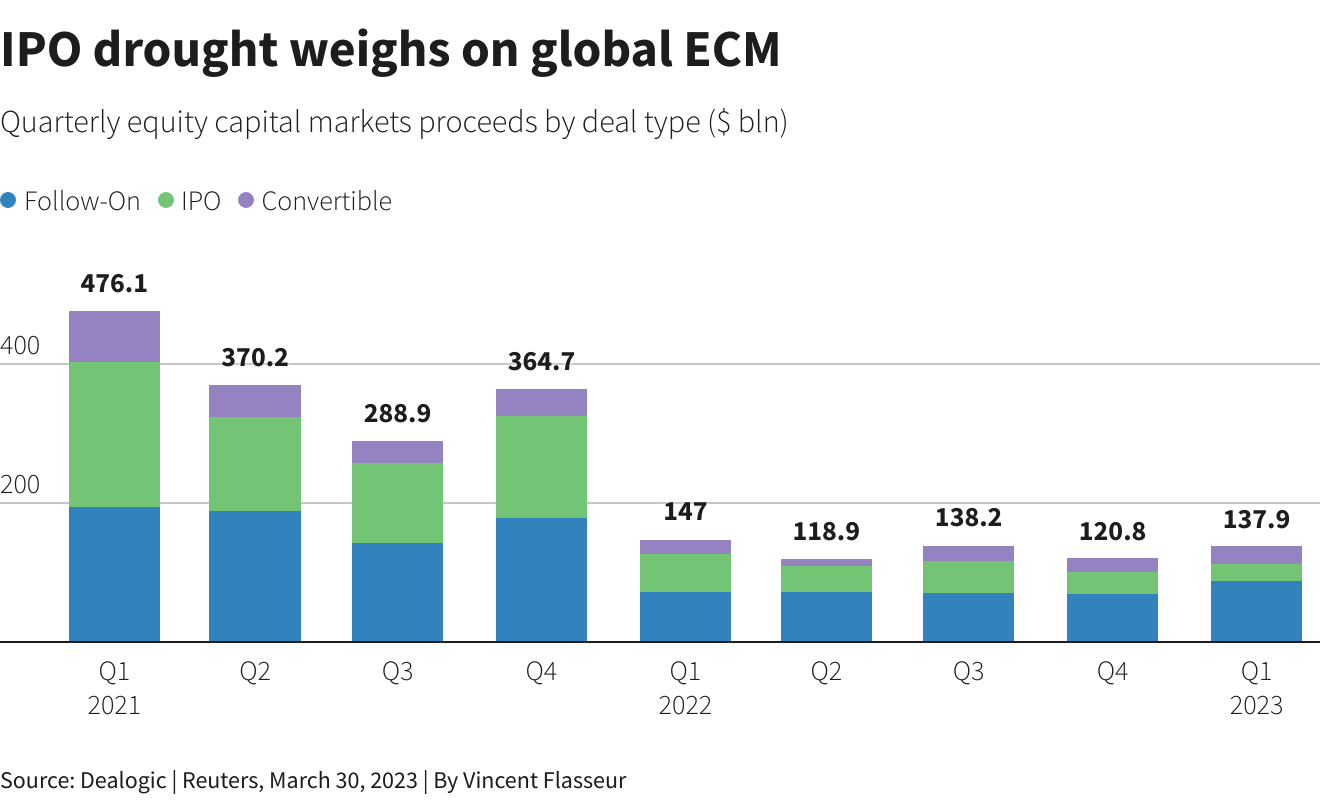 The Middle East was another bright spot for listings as several well-known names including Oman oil driller Abraj Energy (ABRJ.OM) and Adnoc Gas (ADNOCGAS.AD) in the United Arab Emirates (UAE) launched their flotations.

"The Gulf region has so far been immune to the nervousness that has rattled European markets, so we expect to continue to see IPOs coming out of countries like Saudi Arabia and the UAE," said Chris Laing, who oversees HSBC's (HSBA.L) ECM activities across Central and Eastern Europe, Africa and the Middle East.

While shares sales in Asia-Pacific witnessed a 19% drop in volumes, the region still made up for about half of global equity capital markets activity, including a roughly $9 billion stake sale in Japan Post Bank (7182.T).

Spokespeople for Apollo and Lottomatica declined to comment. OLB did not respond to a request for comment.

($1 = 0.9194 euros)