Virgin Islands Premier and Minister of Finance, Hon Andrews A. Fahie has asked that the Virgin Islands (VI) remain in a state of readiness as the 2021 Atlantic Hurricane Season officially ends today, November 30, 2021.
With 21 named storms, 2021 ranked as the third most active year in history, according to the National Hurricane Center, with some 8 storms hitting the US coast.

In the US, Hurricane Ida alone accounted for more than $60 billion in damages, making it one of the five most costly US hurricanes on record since 1980, according to the National Oceanic and Atmospheric Administration.

Premier Fahie, in a short social media statement, said, "Today, we end the Atlantic Hurricane Season with favour. We were forecasted to have a busy hurricane season from June 1 to November 30, but GOD!"

The Premier also used the opportunity to remind residents of the need to keep COVID-19 at the forefront of safety and precaution as the region exits the hurricane season.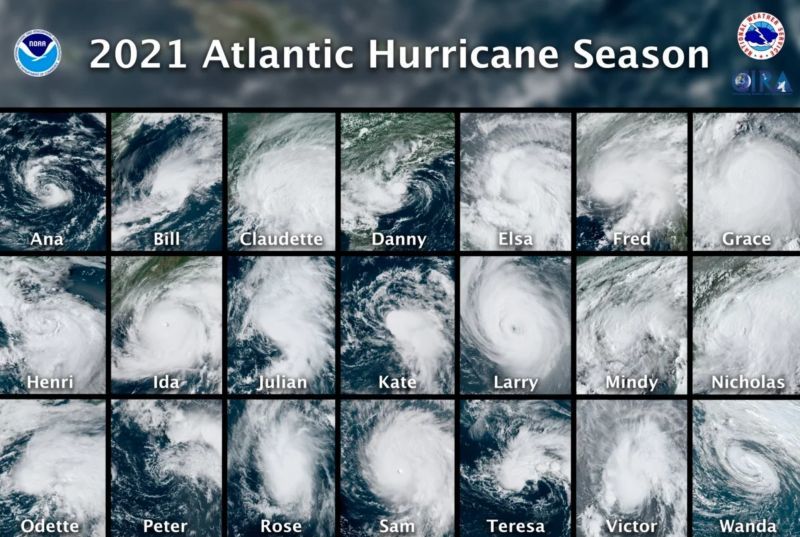 Year book: All 21 named storms from the busy 2021 Atlantic hurricane season are seen in a composite image from NOAA's GOES East satellite.
Continue adhering to COVID-19 protocols - Premier

"Let us continue to remain in a state of readiness. In the same vein for COVID-19, let us continue to be responsible by adhering to the health and safety protocols to keep us all safe.

"Let us continue to pray for our country and for the world, and remember that we are in this together as only through unity and our faith in God will we make our tomorrows better than our yesterdays."

Meanwhile, due to the above-average number of named storms, 2021 is the second straight year in which meteorologists ran out of names for the cyclones after Wanda was dubbed in early November.

Premier Fahie, in a gentle reminder, said, "Remember, people of the Virgin Islands no matter what is thrown at us, we continue to believe in the GOD of our fore-parents whose prayers continue to saturate our lands. We pray that He keeps us safe, strong and self-sufficient as we now move into the Christmas season to celebrate His birth.

"God is Great, isn't He?" Premier Fahie rhetorically asked.