The BVI Athletics Association (BVIAA) has described as well needed and timely the recent monetary donation by the BVI Tourist Board (BVITB) on invitation of Junior Minister for Tourism Hon Sharie B. de Castro (AL).
The handing over of the cheque for $35,000 was made on Friday, April 8, 2022, by Hon de Castro, who called it an honour on behalf of the Government, to be able to support the team representing the territory.

According to the BVIAA on April 9, 2022, the Association, inclusive of its athletes, coaches, parents and supporters "are truly appreciative of this well needed and timely donation."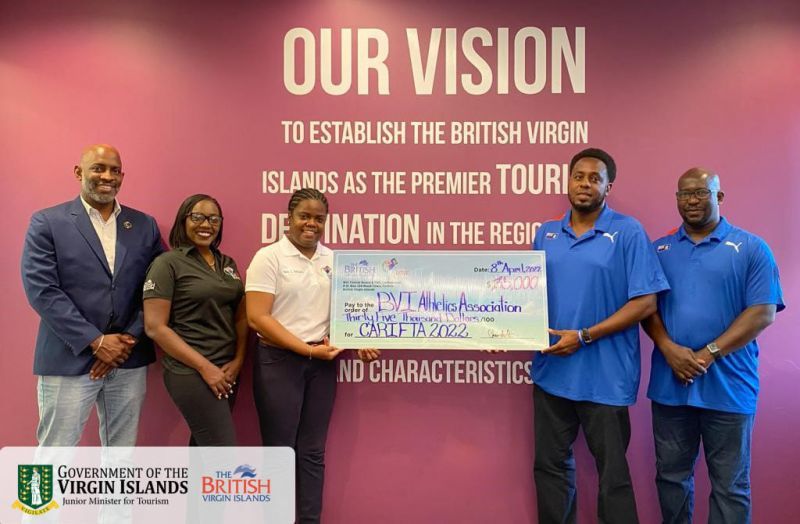 Junior Minister for Tourism Hon Sharie B. de Castro (AL), left, presents the cheque to President of the BVI Athletics Association (BVIAA) Steve Augustine.
Donation supports VI CARIFTA team- BVIAA

The BVIAA said the monies gifted will aid the BVIAA "greatly" in supporting its thirty-two-member team to Jamaica.

"As we have already demonstrated athletically, the investment as seen here, in our youths, will reap benefits far-exceeding the dollar value of the investment amount.

"Again, thanks to the Jr Minister of Tourism, Chairwoman of the BVIs Tourist Board, the BVIs Tourist Board and the Government of the Virgin Islands in recognizing that we are definitely in this pursuit together," the BVIAA stated.

The 49th CARIFTA Games will be held in Jamaica from April 15-19, 2022.