The Anegada Hybrid Renewable Energy and Battery Energy Storage System (BESS) Project, originally slated to be completed by November 2021, is now expected to be completed and commissioned by November 2023.
This was announced at the Groundbreaking Ceremony at The Settlement in Anegada today, December 29, 2022.

The project is being executed by US-based Power52 Clean Energy Access.


Project to increase quality of life on Anegada - Premier
Premier and Minister of Finance Dr the Honourable Natalio D. Wheatley (R7) said the project when completed will enhance the quality of life of the people on Anegada.
He also said it would reduce expenses for the BVI Electricity Corporation (BVIEC), which had been subsidising electricity on Anegada.
Additionally, Premier Wheatley said the project will provide employment opportunities for locals, including persons on Anegada.
CEO and Founder of Power52 Mr Rob Wallace noted that the project will be built and maintained using persons from the VI who completed solar technician training and are now certified.
He said physical works are expected to start in February 2023, once certain equipment have arrived.
The specifications of the system to be installed at 1.252 megawatts of solar PV panels and a 4078 kilowatt-hours of battery energy storage which is projected to reduce diesel produced on the island of Anegada by an impressive 95 percent.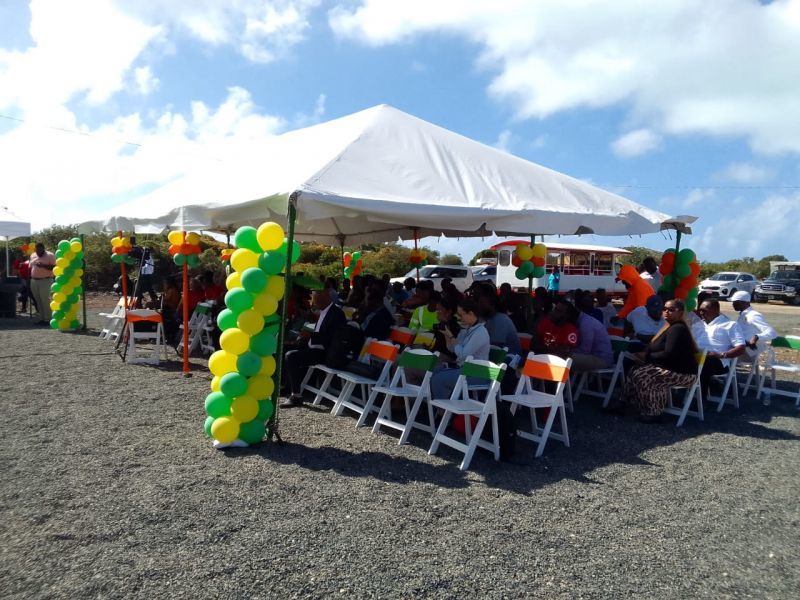 The Groundbreaking Ceremony was held today, December 29, 2022, at The Settlement in Anegada.
Solar plant located next to Anegada electricity plant
The project is being built close to where the current electricity plant on Anegada is located.
Meanwhile, General Manager of BVIEC Mr Leroy A. E. Abraham said some equipment are already on island and others are scheduled to arrive in the coming weeks and months.
Among the many persons in attendance were Minister for Communications and Works Hon Kye M. Rymer (R5), Minister for Natural Resources and Labour Hon Melvin M. Turnbull (R2), Junior Minister for Trade and Economic Development Hon Shereen D. Flax-Charles (AL), Ninth District Representative Hon Vincent O. Wheatley and former Deputy Premier Dr Kedrick D. Pickering.