The Royal BVI Yacht Club (RBVIYC) recently presented its 2022 Yacht Club Awards.
Not surprisingly, prominent sailor Chris Haycraft received the award for Best Club Helm in the Adult Category.


'Consistent competitor'
According to the RBVIYC, Haycraft is the most consistent competitor in club races.
He finished first in the Lowell Wheatley Anegada Pursuit Race, Nanny Cay Round Tortola Race and wrapped up the year with a win in the Golden Hind Chandlery Commodore's Race.
The Best International Competitor award went to Thad A. Lettsome, which also came as no surprise.
Lettsome continues to compete in the ILCA7 (Laser) on the international circuit whilst also representing Tulane University.
Results in 2022 include 29th at the ILCA7 U21 Worlds, 18th at the ILCA7 North Americans and 11th at the Snipe Junior Worlds.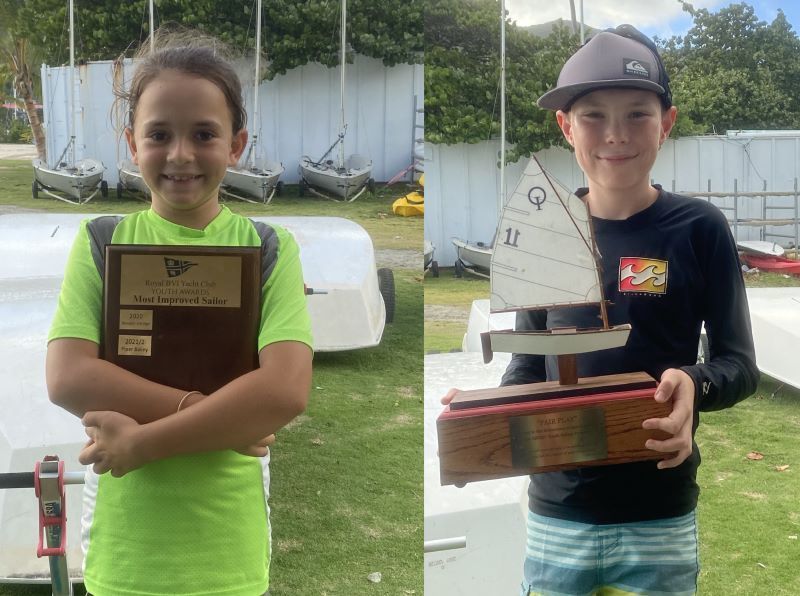 In the youth category, Piper Bailey (left) took the award for Most Improved Sailor. The Sportsmanship Award was presented to Jake Richardson, right.
'Most improved'
Marentia de Villiers was the recipient of the Most Improved Sailor award.
The RBVIYC said de Villiers will take every possible opportunity to get out sailing and always makes herself available to help and encourage new sailors.
"She has a thirst for knowledge and is awarded the most improved sailor in recognition of her progress in the Laser," the RBVIYC stated.
And the Ros Griffiths Award for Outstanding Service went to Bob Phillips
The award was presented to Phillips in recognition of the many years of support he has shown to the Club.
"The list of areas where Bob gives his time, energy and advice is long and we won't embarrass him by sharing them all. A well-deserved award!" the RBVIYC stated.
Youth Awards
In the youth category, Piper Bailey took the award for Most Improved Sailor.
"The most improved youth sailor, Piper Bailey, is now confidently in command of her Optimist! Piper is always keen to learn, attentive and focussed. With her classmates in the after-school sailing programme, they are working on fine tuning their skills and starting to learn the basics of racing," the RBVIYC noted.
The Sportsmanship Award was presented to Jake Richardson
The RBVIYC said Richardson receives the Sportsmanship award in recognition of his consideration and kindness to others.
"One of the keenest sailors in the programme, his enthusiasm is infectious. He is always ready to help others rig their boats or pull them up the beach at the end of the day and will always try and reassure new sailors who are a little out of their comfort zone," the RBVIYC proudly stated.