The H. Lavity Stoutt Community College (HLSCC) will host its first Alumni Association meeting for the start of the new year on Thursday, January 27, 2022, at 5:30 pm.
The scheduled virtual meeting is open to all alumni (inclusive of graduates or former students) of the institution via Zoom using the Meeting ID: 928 8240 2341 and Passcode: Alumni.

Director of Institutional Advancement, Ms Yvonne Crabbe said that the HLSCC's Alumni Association exists to support the College's mission and goals, and strengthen the ties between its members, the community, and the College.

Ms Crabbe said, "The College is very committed to – and excited about - engaging its alumni in a meaningful way through the Alumni Association. The alumni are a very important part of the HLSCC family, and we want to hear from them. We are very interested in where they are, how they are doing and how they can help to develop the ethos and fabric of HLSCC for generations to come."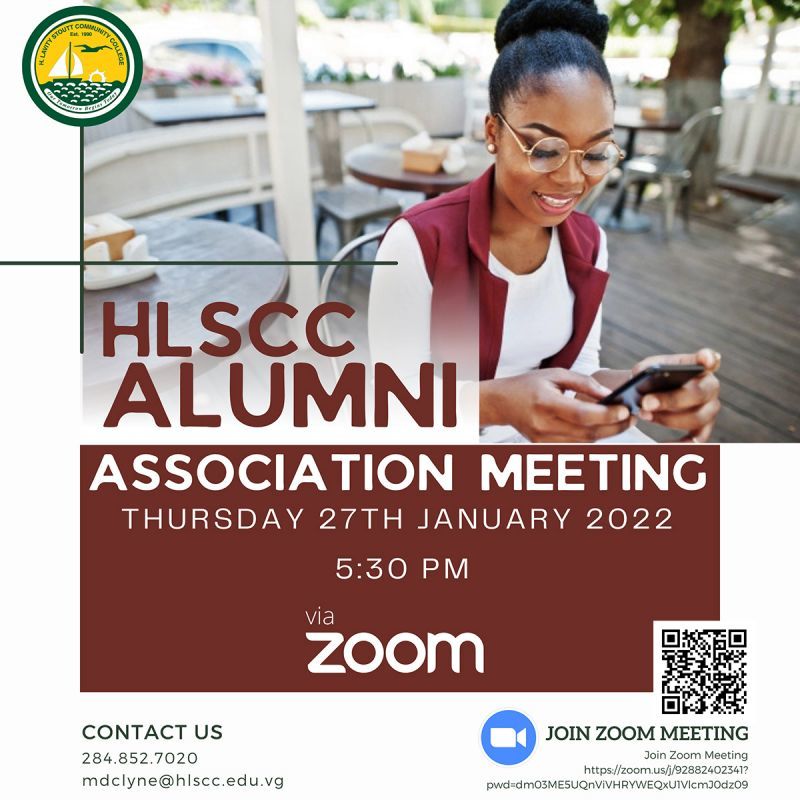 Electronic invitation to the upcoming Alumni Association Meeting.
HLSCC Alumni Association

The HLSCC Alumni Association is an alumni-led body aimed at promoting alumni engagement, fostering a spirit of loyalty and support, and supporting the general welfare of its members.

The Association will serve as the gateway for alumni to stay connected to the College. It will also support students through scholarship programmes and networking opportunities; encourage alumni to contribute their time, talent, and financial support to HLSCC; advocate for the overall community and the College on issues of mutual interest, and communicate needs and news, and celebrates the innovative accomplishments of HLSCC and its alumni.

Through the Alumni Association, members will be provided with opportunities for volunteer engagement, professional association, career development, leadership, and fellowship among alumni. Members will also receive an Alumni ID card to enjoy the discounts offered through the HLSCC's Alumni Discount Programme.

To become a member, alumni must complete the membership form/PDF Version; submit the completed form and the $30 membership fee to the cashier window at the Paraquita Bay Campus or Virgin Gorda Centre, take their receipt (proof of payment) to Student Services to receive their Alumni ID Card; and begin to enjoy the discounts offered by the Alumni Discount Programme Partners.

For more information on the HLSCC Alumni Association, please contact us via email at hlsccalumniassociation@hlscc.edu.vg or via telephone at (284) 494-4994 or (284) 852-7020.