New Virgin Islands Premier and Minister of Finance, Dr the Hon Natalio D. Wheatley (R7) says business in the Virgin Islands (VI) will continue, even as former Premier Andrew A. Fahie (R1) is to face the courts on drugs conspiracy and money laundering charges.
Speaking during today's May 13, 2022, meeting with the press and update on current matters, Premier Wheatley said the VI has moved on with a new Government and new ministers.

"What transpired somewhere around two weeks ago was very unfortunate and it was saddening and shocking for all of us, but since then we have moved on. We have removed the former Premier from his position and there is a new Minister of Finance, and a New Minister of Tourism and a New Premier and we have a new Government in place," Dr Wheatley said.

"We are sending a message to the Virgin Islands Public as well as the International Community, that business continues in the BVI. Certainly, the former Premier will face his day in court and he will have to defend himself," he added.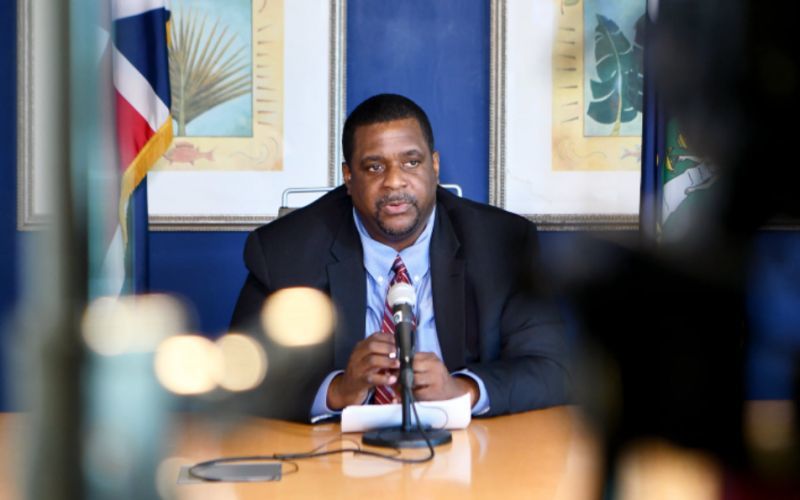 Former Premier Andrew A. Fahie was removed from office to pave way for a new Unity Government lead by New Premier, Dr The Hon Natalio D. Wheatley.
Gov't moving swiftly - Premier Wheatley

Dr Wheatley also said the new Unity Government is taking measures and moving swiftly to ensure that they root out any vestiges of any type of corruption and maladministration.

Meanwhile, the Premier mentioned the need for a new BVI Ports Authority Board and touched on criminal investigations launched by the Governor into various areas such as H.M Customs and the Premier's Office.

'We are serious about making sure that we show our commitment to good governance, transparency, accountability, respect for the rule of law all of those things," Dr Wheatley added.

He said the commitment is not just to the international community and UK Government but to the people of the VI.

"We are affirming very strongly that the BVI remains an excellent place to live, to work, and to visit and I'm confident that visitors will continue to come to the BVI because certainly business continues in the BVI and we welcome them," he added.