Leader of His Majesty's Loyal Opposition Honourable Julian Fraser RA (R3) has said the £100,000 in reparations expected to be given to Grenada by the aristocrat Trevelyan family, towards the establishment of a community fund for economic development, is a misdirection and speaks to insensitivity.
Honourable Fraser recently shared his opinion with Virgin Islands News Online (VINO), noting that if the Grenadians accept this offer from the wealthy British family on these terms, they will be sending the wrong message and cheapen the initial cause.

The Opposition Leader noted; however, that it would be more meaningful for the funds to go towards the establishment of a committee for Reparations instead.
"For us in the Virgin Islands, the National Sustainable Development Plan recommends three significant steps towards the fight for Reparations... First, it recognises the construct of Reparations; second, they recommend that there be regular lectures on Reparatory justice; and third, they recommend that a reparations committee be established", he said.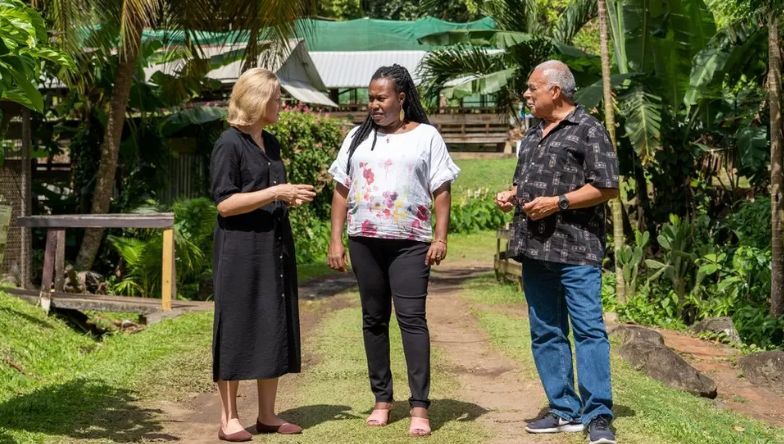 Laura Trevelyan (left) explores a former slave plantation on Grenada during her visit in 2022.
A voice for reparations
Hon Fraser added that it would also be important for BBC reporter, Laura Trevelyan, who is a member of the wealthy UK family, to dedicate herself to the committee in the fight for Reparations.
"Her voice will go much much further than the £100,000. I have made representation regarding the preparation for this eventuality to the Constitutional Review Commission", he noted.
Following a visit to Grenada last year, Ms Trevelyan made a promise for seven members of her family to return to the island later this month to issue a public apology.
She had expressed shock after learning that her family who reportedly owned over 1000 slaves in the 19th century was compensated by the United Kingdom (UK) government when slavery was abolished, while the slaves did not receive anything.
Ms Trevelyan said while the payment seem inadequate, her hope was to set an example by apologising for the actions of her ancestors.
We cannot go into the fight 'on our knees'- Hon Fraser
Honorable Fraser made the call for this issue to be addressed soonest.
"We must not go into the fight for Reparations on our knees, for people might think we're looking for a hand up.
"Slavery has been abolished almost 200 years ago and this debate is just now getting started, and it's not going away. The sooner it is addressed in earnest, the better for those responsible for the transgressions. Israel survived despite all odds because they refused to stoop", the Opposition Leader said.