Leader of Her Majesty's Loyal Opposition Honourable Marlon A. Penn (R8) has argued that the existing portfolios of at least two ministers are overloaded and is suggesting a sixth ministry to even out the workload.
"Let's take the issue of expanding the minister's portfolio. I think it was part of the last constitutional review where it was being looked at to have a sixth ministry. Right now, the ministerial portfolios are overloaded. You have a minister that has two Permanent Secretaries because of the workload that he has within his portfolio, fishing, farming, education, sports, youth affairs, very overloaded," he said, referring to Deputy Premier Dr the Hon. Natalio D. Wheatley (R7).

"The Premier himself has an overloaded portfolio," he added.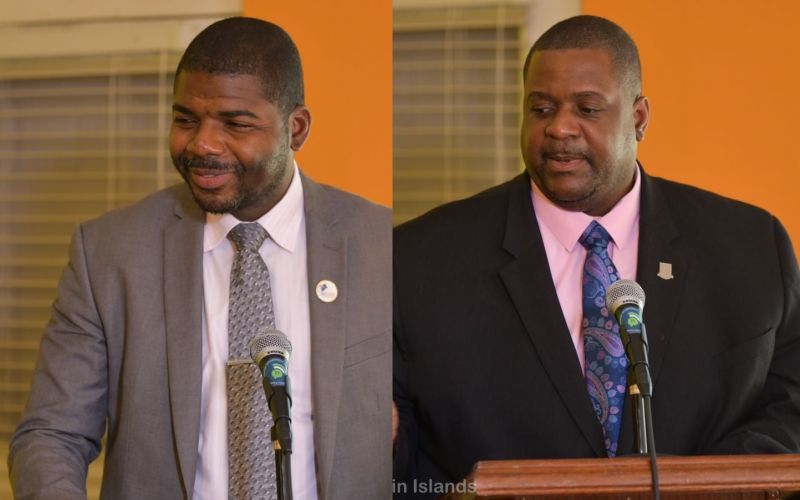 According to Opposition Leader Honourable Marlon A. Penn (R8), the portfolios of Premier and Minister of Finance Hon Andrew A. Fahie (R1), right, and Deputy Premier and Minister for Education, Culture, Youth Affairs, Fisheries and Agriculture, Dr the Hon Natalio D. Wheatley (R7), left, are overloaded.
More efficiency needed- Hon Penn

The Leader of the Opposition stated that there is a need to be more efficient in government.

"We need to be able to effectively and efficiently execute the duties of the territory for the people of the territory, and I think one of the recommendations that has been coming out of that [Constitutional] review was you need to increase the size of the legislature so you have a formula that speaks to some type of parity in the house," he said.

The Opposition Leader's was responding to the attorney for the Commission of Inquiry Mr Bilal Rawat on Wednesday, June 23 2021.

Mr Rawat asked him to expound on his statement on the matter that he initially raised in his Position Statement to the CoI.

In his Position Statement, he said: "Increase the number of Ministers (through relevant amendments to the Constitution) so as to allow for a larger number of Ministers to manage the voluminous and complex ministerial portfolios. This could lead to greater efficiency, effectiveness, and responsiveness as well as greater participation."

There are currently five ministers and two junior ministers.