Deputy Premier and Minister for Communications and Works Hon Kye M. Rymer (R5) is concerned that public officers recently charged by the Royal Virgin Islands Police Force (RVIPF) may not have been given treated fairly as public officers.
Lorna Stevens was arrested and charged on October 20, 2022, for Breach of Trust by a Public Officer. This is in relation to investigations into the Elmore Stoutt High School Wall Project.

On October 11, 2022, the Royal Virgin Islands Police Force (RVIPF) announced that Director of the International Affairs Secretariat Najan Christopher was charged for Breach of Trust and False Assumption of Authority.

Police said Christopher's charges stem from the diplomatic note sent from the Premier's office.

Questioned on the matter at a press conference today, October 28, 2022, Premier and Minister of Finance Dr the Hon Natalio D. Wheatley (R7) said he wouldn't comment on the matters since they are before the court; however, he said those persons will have their day in court.

"All those persons who believe they have been wrongfully charged, they do have recourse through the courts. They have the right to due process. They have the right to have representation legally and we have to trust that the process will be just," Dr Wheatley said.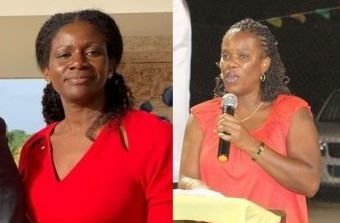 Najan Christopher, left, and Lorna Stevens, right, were recently charged by the Royal Virgin Islands Police Force (RVIPF) for Breach of Trust by a Public Officer. Both charges stemmed from separate matters.
Were all mechanisms followed?

Hon Rymer; however, said are mechanisms within the service that I believe could have been used instead of taking the route of criminal charges.

"As you spoke about Breach of Trust, there is a Public Service Commission that deals with disciplinary action for public officers and I am not sure if that avenue was explored before getting to the criminal side of it," Hon Rymer stated.

The Deputy Premier said he has asked the Premier to look into the matter "because I think it is a serious one and I know public officers are hired to do their job and we all expect that they do their job with due diligence and integrity and when there are any mishaps, we would hope that there are mechanisms that we can resort to," Hon Rymer added.

Premier Wheatley then said he would find out what actions were being taken by the Public Service Commission.

He noted; however, that the Office of the Director of Public Prosecutions (DPP) is entirely independent of government and that he was not trying to influence anyone.

Many in the Virgin Islands have called out the Governor for giving the Police Commissioner and fellow UK national Mark Collins a slap on the wrist when they believe he should have been charged for Breach of Trust, in relation to the Police in Paradise video.