Premier and Minister of Finance, Dr the Hon Natalio D. Wheatley (R7) says independence for the Virgin Islands (VI) is a decision for the people of the territory.
Dr Wheatley was at the time a guest on the cross-border show, 'Territories Talk', on July 13, 2022.


Independence will come through a referendum - Dr Wheatley

Addressing questions on the possibility of independence in the VI, Dr Wheatley added, "Well, definitely independence is a decision for the people of the Virgin Islands that they will express through a referendum. But certainly, I think if we are ever to take that step, it will be because we have helped mature our institutions."

Dr Wheatley said if the VI is to ever take the step towards independence, it will be because the VI has built up its independent institutions that can hold the politicians' feet to the fire, and keep them accountable, with an emphasis on transparency, accountability, good governance and respect for the rule of law.

He added that the efficiency and effectiveness of local systems and processes all help to build confidence among the people of the VI.

"I believe the people of the OTs are no less than any group from any other place in the world. I believe we do have the ability to govern ourselves. I think in a lot of ways our development has been retarded and has been stunted based on the relationship that we've had with our administering power."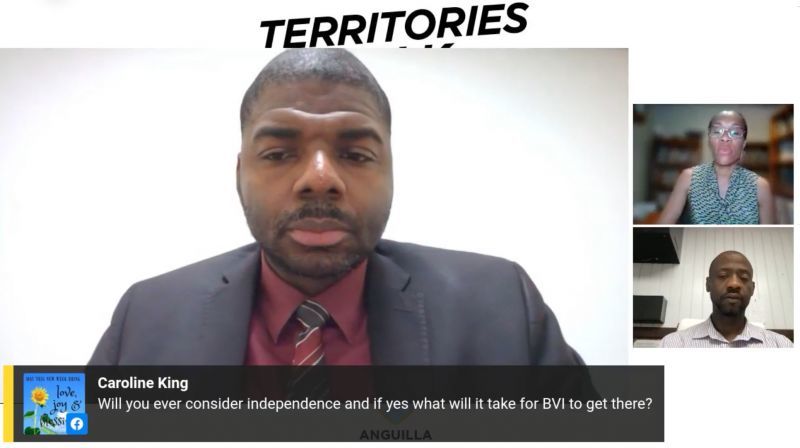 Premier Dr the Hon Natalio D. Wheatley was at the time a guest on the cross border Territories talk show which was broadcasted on July 13, 2022, via Facebook.
VI needs to mature & grow - Dr Wheatley

The Premier said; however, that it is good that there's an awakening among the people of the VI, where there is a need to mature and grow as well as mature the local politics to ensure that the best interests of the territory are at the heart of everything and that relationships are formed.

"I think the Territories Talk holds well for our future, that we realise that we have partnerships that go beyond the shores of our individual territories and that we'll utilise the resources which are around us."

This, Dr Wheatley said, will help the VI in the event that the territory takes the step of going independent or choose to have a free association with another state, since independence is not the only option available on the way forward.

"So we've been attending the UN Decolonisation meetings, we've been reporting to them every year [and]they have actually passed some resolutions on the BVI supporting our right to self-determination, and we're going to continue reporting…. Going to continue going through the process and certainly, we are hopeful that the United Kingdom will be supportive of us in that, along with our brothers and sisters in the region," he added.