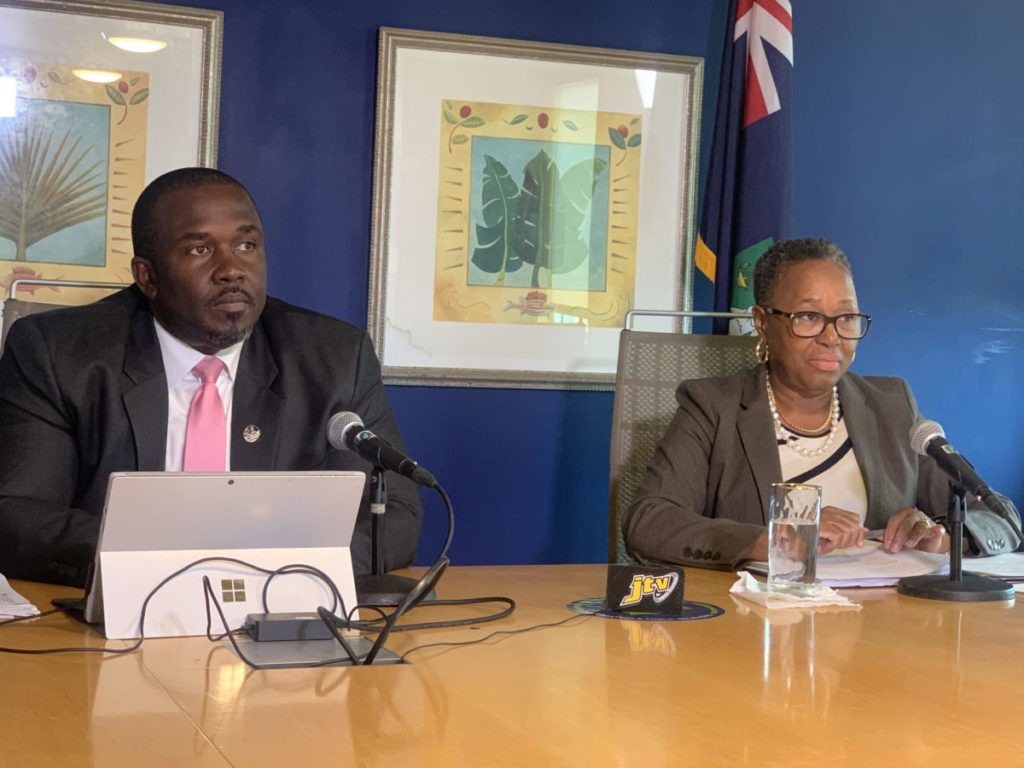 Last cheques to HOA grant recipients before SSD takes over
Beneficiaries of grants from the House of Assembly (HOA) will receive their last assistance grants this week as the Social Development Department (SSD) assumes control of grant issuance beginning July 1.
The SSD will then assume sole responsibility for the issuance of grants to the 362 persons transitioning from the HOA for three months (July-September) at the same rate previously granted from the HOA.

This information was disclosed earlier today in a press conference hosted by Minister for Social Development Marlon Penn and Chief Social Development Officer Annie Frett-Malone.

Minister Penn said the persons who have been receiving the scheduled grants from the HOA will see a three-month transition grant implemented by the SSD and only individuals who were previously approved for monthly or bi-monthly assistance by the HOA will continue to receive grants during this transitional period.

"During the three-month transition period, each grant recipient will be assessed to determine if they are eligible for enrolment into the Public Assistance Programme. For persons who do not qualify for Public Assistance, benefit payments will stop at the end of September. However, if any fraud or deception is discovered during the assessment process, grant payments will cease immediately, and steps are taken to recover any fraudulent payments," Penn said.

He noted that alongside the transitional arrangements, the Public Assistance Committee will continue to consider applications for various types of short, medium, and long-term grants and make referrals to employment and livelihood support services.

"Priority is given to vulnerable children, persons over 65, unemployed persons, and persons with disabilities. However, emergency assistance can be provided to other poor and vulnerable households to meet basic needs, in special circumstances," the Social Development Minister added.

The Minister said he is aware the change is happening during the Atlantic hurricane season and during a time when global events are placing increasing pressures on household budgets.

"The Government of National Unity is sensitive to these pressures and will continue to build capacity to rapidly deliver financial assistance to low-income and worst-affected households during times of emergency. To achieve this, Cabinet has directed the Ministry of Health and Social Development to urgently develop a contingency plan to cope with any surge in demand, with appropriate emergency funding mechanisms," Penn added.

Meanwhile, Frett-Malone said the main purpose of continuing the assistance grants in their current form is to avoid any financial hardship or disenfranchisement to current individuals and families.

"Moreover, during the three-month period, beneficiaries will be further digitally registered and assessed to determine final eligibility to participate in the Public Assistance Program. Registration is scheduled to begin the third week of July. To assist with the registration and assessment process, a total of twenty-four staff members from across the department will conduct the registrations and assessments," the Chief Social Development Officer said.

She added once the assessments are completed, eligible individuals and families will, from October 2022, become enrolled as Public Assistance beneficiaries and receive rates stipulated under the 2013 Public Assistance Statue.

"We are mindful that after the initial three-month transitional period, persons from among the 362 persons may not want to participate in the process for Public Assistance, please understand that you have the right to decide and whatever your decision, we certainly respect your right to your decision," Frett-Malone added.