Though ravaged by the devastating effects of the September 2017 hurricanes and hit with a pandemic that stunted its recovery, MarineMax Vacations — a local boat-charter company — is now on the rebound; just in time to celebrate 10 years of operation in the Virgin Islands.
Buoyed by the resilience of its team, MarineMax's Vice President of the Charter Division, Raul Bermudez, said the company is expecting an upturn in clients for the foreseeable future.

"Right now looks very strong. We have a combination of people who had to reschedule their vacation because of the pandemic and the restrictions were too tough. We have those, plus regular demands and we had the hurricanes three years ago. All those folks have been waiting to come back. So, right now until July, we are extremely busy," the Vice-President said.

He told BVI News that, in the future, the charter company will look to keep pushing the boundaries and keep advancing the types of boats utilised in its operations.

Bermudez also said the charter company will be doing several things to celebrate its decennial jubilee.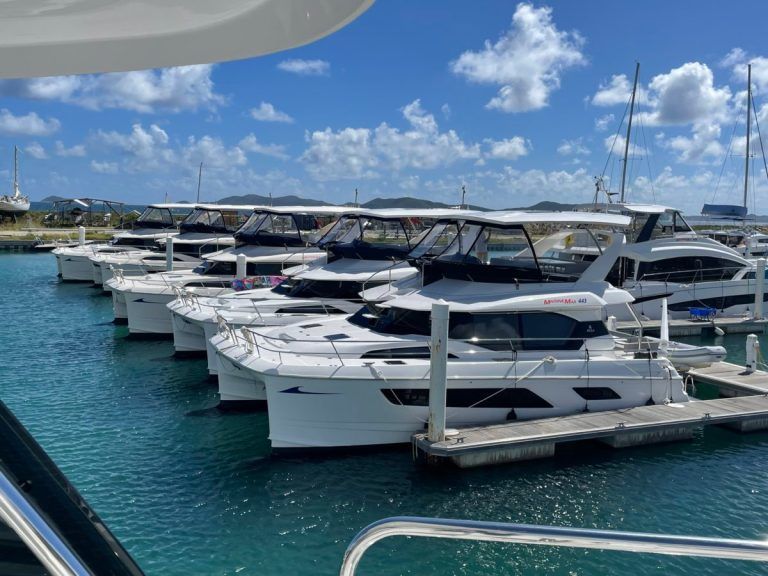 MarineMax's fleet of charter vessels.

"We just had the launch, which is the kick-off. This is the tenth anniversary of the first charter we delivered 10 years ago. We also have a contest online for customers to win a vacation. So, we will be doing some of that and we will be celebrating with all the charter guests coming down here," Bermudez stated.

The Vice-President said the company has faced its fair share of challenges over the last decade, so credit must be given to staff members for keeping the company going.

"It has been challenging times with the hurricanes over four years ago, with the pandemic. We've been fortunate that we have Mr Clarence Malone (Director of Operations) for the last five years to recruit people and maintain them. MarineMax does stand by the people. So, we were able to keep people employed through all those challenges. However, the first challenge in setting up here was finding a suitable marina, making sure we followed all the proper protocols and ensuring the boats are registered properly," Bermudez stated.