The 95-year-old's controversial response to Macron's plan to clamp down on radical Islam comes as three people are killed at a church in Nice in a suspected terror attack.




Muslims protest against French leader's defence of Prophet Mohammed cartoons, call for boycott
Malaysia's former prime minister Mahathir Mohamad has sparked an uproar by claiming that Muslims have "a right to be angry and kill millions of French people for the massacres of the past".

The comments appeared on the 95-year-old's blog on Thursday evening as part of Mahathir's response to calls from Muslim nations to boycott French products. Twitter has since removed one of the elder statesman's tweets containing his latest remarks after deeming it violated its rules. Earlier, it left the tweet accessible "in the public interest".

Cédric O, France's junior digital affairs minister, said he spoke with the managing director of Twitter in his country and called for the immediate suspension of Mahathir's official account. "If not, Twitter would be an accomplice to murder," the minister wrote on the social media platform.

Muslim nations have been angered by the French leader Emmanuel Macron's remarks this month describing Islam as a religion "in crisis" and his plans to crack down on radicalism following the murder of a teacher who showed his class cartoons depicting the Prophet Mohammed.

Muslims protest against French leader's defence of Prophet Mohammed cartoons, call for boycott
Mahathir's post was immediately criticised by both foreign and local audiences, many of whom said he was encouraging violence.

Referring to Macron's comments, Mahathir demanded France teach its people to respect others.

"Since you have blamed all Muslims and their religion for what was done by one angry person, the Muslims have a right to punish the French. The boycott cannot compensate the wrongs committed by the French all these years," he wrote, in an apparent reference to French colonialism.

"But by and large the Muslims have not applied the 'eye for an eye' law. Muslims don't. The French shouldn't. Instead the French should teach their people to respect other people's feelings."

In what some people saw as his most inflammatory remark, Mahathir appeared to reference French colonialism, saying: "Muslims have a right to be angry and kill millions of French people for the massacres of the past."

Australia's ambassador in Malaysia, Andrew Goledzinowski, was among the more than 24,000 people who have responded to that remark – shared on the politician's Twitter account – by quoting it.

"I am deeply disturbed by this statement from Tun Dr Mahathir," wrote Goledzinowski. "I know that he has not, and would not, advocated actual violence. But in the current climate, words can have consequences."

Malaysian cleric and politician Fathul Bari Mat Jahya urged the nonagenarian to "delete" his comments. "Tun, this is not right. Islam does not teach its adherents to punish wholesale," the cleric wrote on Twitter, using Mahathir's honorific title.

"This is a reprehensible tribalism. As a statesman, and a figure popular abroad, with due respect I request Tun to delete this remark."

Mahathir's remarks came as reports emerged of fresh attacks at a church in Nice, France.

On Thursday, a man armed with a knife killed at least three people at the church in an act the city's mayor said was motivated by extremism.

The assailant "kept repeating 'Allahu akbar' (God is Great) even while under medication" after he was injured during his arrest, Nice's Mayor Christian Estrosi told journalists at the scene, reported AFP.

The attack came less than two weeks after police shot dead an 18-year-old Chechen who slit the throat of a teacher who had shown his class a caricature of the Prophet Mohammed, whose depiction is banned in Islam.

That killing prompted Macron to announce plans to combat radical Islam, including placing mosques under greater scrutiny and ensuring that imams are trained in France.

Macron's plans have led to tensions with Muslim nations, many of whom have responded with calls for a boycott of French goods.

The Malaysian government this week summoned the French chargé d'affaires to express Malaysia's concern over growing hostilities, hate speech and defamation of Islam.

The Foreign Affairs Ministry said it had used the meeting to reiterate Malaysia's position condemning any "inflammatory rhetoric and provocative acts" that defamed Islam.

It pointed to populist speeches and the recent republication of caricatures of the Prophet that had first appeared in the satirical magazine Charlie Hebdo, itself the target of a mass shooting in 2015.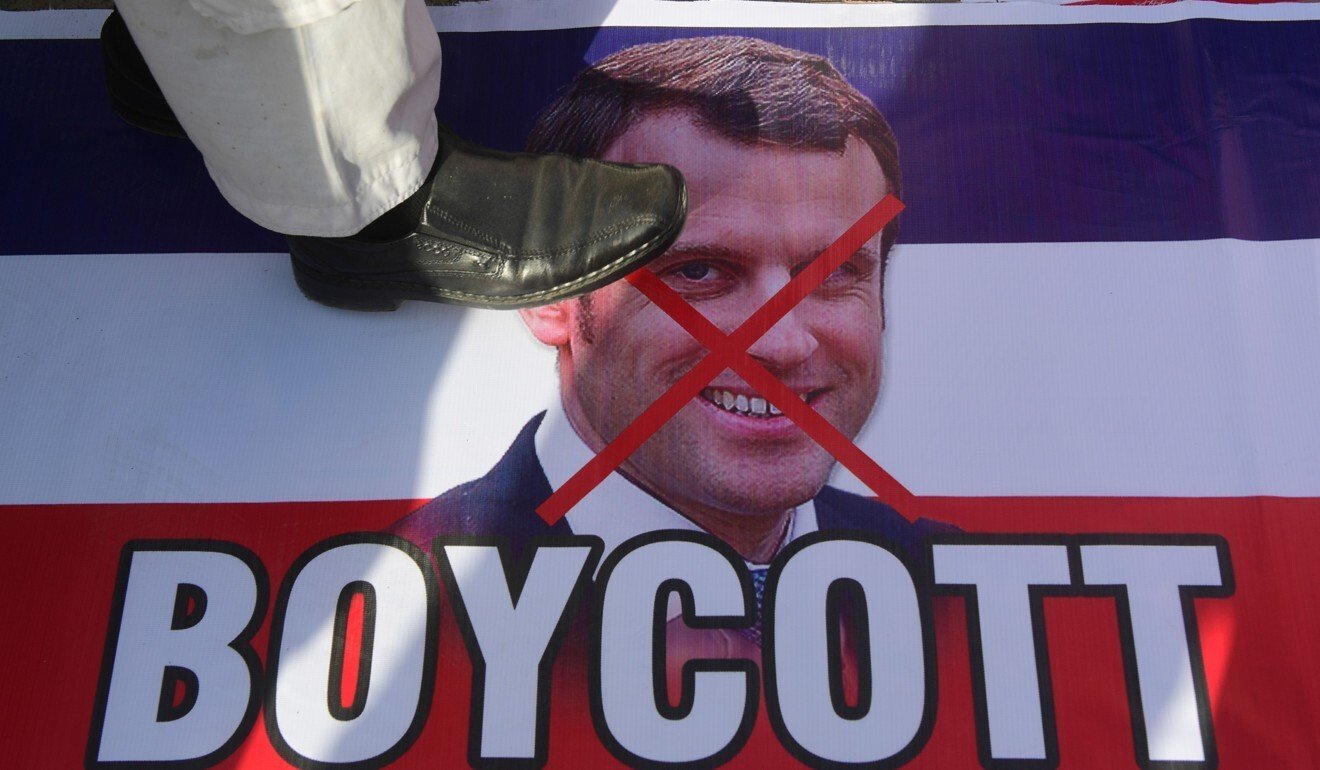 A Muslim man in Karachi stands on a French national flag bearing the image of President Emmanuel Macron.

"Malaysia will continue to work with the international community to promote mutual respect among religions and prevent religious extremism," it said.

Meanwhile, Mahathir, who is known for a sardonic writing style, said that while he did not approve of the killing and believed in freedom of speech, he did not believe this freedom extended to "insulting" others.

"Macron is not showing that he is civilised. He is very primitive in blaming the religion of Islam and Muslims for the killing of the insulting schoolteacher. It is not in keeping with the teachings of Islam."