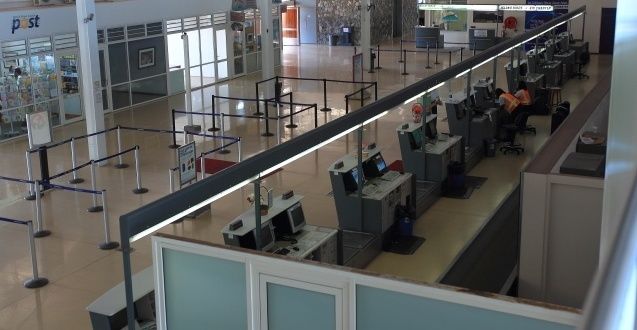 New Airport MD Takes Over Amidst Concerns About High Staff Turnover
As revealed last month, a former top official from Trinidad's airport authority has taken up appointment as the Managing Director of the BVI Airports Authority (BVIAA).
Kurt Menal started his appointment on Monday, January 24, according to the BVIAA.

His appointment comes at a time when there are mounting concerns about staff morale at the airport and the resulting high staff turnover, all of which were raised the Government.

Menal's most recent post of Deputy General Manager at the Airports Authority of Trinidad and Tobago comes to the BVI with over 25 years of experience in the aviation industry.

Much of his experience is at the managerial level including those in his native homeland of St. Lucia where he attained the highest-ranking position in the aviation industry, that of Ag. Chief Aviation Officer at the Ministry of External Affairs Trade and Civil Aviation, Government of St. Lucia.

Last month, Second District Representative, Hon. Melvin 'Mitch' Turnbull expressed concerns over a series of resignations at the BVIAA.

"The Board of Directors at the Airport's Authority has now seen three managing directors, a financial controller and a director of operations resign since the board has taken effect," Hon. Turnbull said during the virtual debate on the 2022 budget today, December 14.

He told the House that while he is not an aviation professional, based on the conversations with persons working within the airports authority there is a lack of confidence, lack of support and low morale among the employees.

"I am highlighting it because it was brought to my attention," Hon. Turnbull had stated.

He expressed fear that what is taking place at the airport might impact safety of flights and passengers.

"This is an airport, Mr. Speaker, not a candy shop. It is something that deals with the lives of persons from the air traffic controllers, to the people on the ground to the people everywhere has to be in place. Safety is of utmost importance and Mr. Speaker a serious look, a serious introspection, inspection within the body of the airport needs to be taken to address some of the concerns," Hon. Turnbull stated.

He admitted to not knowing if the regulatory agencies are looking into this and what if there are any plans to address the issues at the BVIAA.

"I don't want to ever hear; God forbid that there is an incident at the airport or with an aircraft and the proper persons were not in place to do what they need to do and we had been aware of the situation that we haven't done anything about," Hon. Turnbull stated.