"When an old man dies, a library burns to the ground," is a popular African proverb illustrating that seniors have a lot to share regarding their knowledge and wisdom, having lived a long life.
For Virgin Islander and Author Andria D. Flax, the journey immortalises some of that knowledge in the pages of 'A walk through the Valley," a new book saluting local seniors who live to be centenarians and supercentenarians.

The research took 10 years.


Finding Inspiration

"My inspiration came from the elderly persons within our community. Thankfully, we have so many of them still with us today – humble persons who endured so much hardship in the years when the Territory was developing - living simple lives; relying on God's guidance," Mrs Flax told Virgin Islands News Online (VINO).

She said the seniors are persons who grew up without the modern conveniences we are familiar with today, "yet they gladly shared whatever they had with relatives, neighbours and friends, and never complained.

"Through their stories, I wanted to add to the historical information available in our Territory, so that future generations would be able to learn more about the giants on whose shoulders we stand."

For Mrs Flax, the book is also not her first. She previously wrote, 'The Way We Were and 'Sharing the Vision' which were both published in 2010.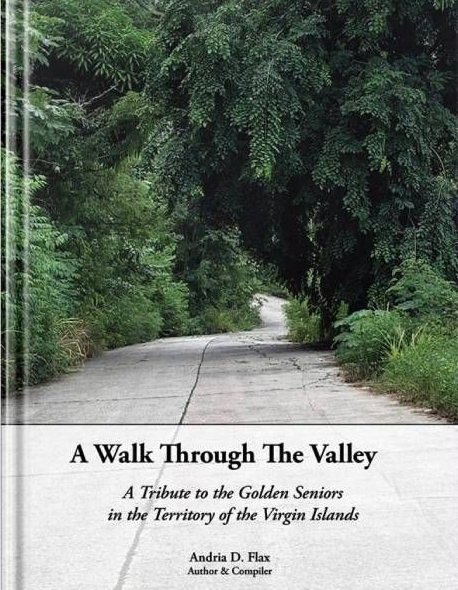 For Virgin Islander Andria D. Flax, the journey immortalize local knowledge and customs in the pages of 'A walk through the Valley,' the research took 10 years.
Capturing lives of VI seniors

Her latest book, 'A walk through the valley', was able to capture details about senior who laboured long and sacrificed much to contribute tremendously toward the growth of the Virgin Islands.

"I have been able to capture the lives of over seven hundred men and women deserving of recognition for their individual contributions, most of whom have been profiled. Among these golden gems are seven supercentenarians (two males and five females), and one hundred centenarians (twenty-six males and seventy-four females)."

In total, the book documented 107 men and women who have lived for one hundred years and over. 26.2% of the persons featured are male, while the females have dominated with an impressive 73.8%.

"The book takes us back nearly 150 years and includes persons living on all of the inhabited islands in the Territory (Tortola, Anegada, Virgin Gorda and Jost van Dyke), as well as elderly persons who lived on Salt Island, Peter Island, Cooper Island, Great Thatch and Great Camanoe in years past. It covers almost all of the familiar surnames known in the BVI," she said.

"The oldest centenarian I discovered was Mr Samuel Patmillin of Kingstown, Tortola who was buried on 21st July 1872, having lived for 120 years! It also includes information on Mrs Ina Beamish of Lower Estate, Tortola, who became the Territory's latest centenarian, having attained the golden age of 100 years on 7th May 2021."


Recording VI customs & history

A second reason for the book, according to Mrs Flax, was her desire to record whatever was discovered on customs, traditions, and a bit of the rich history of our islands for posterity.

Also contained in the book is a genealogical component that should greatly assist persons, especially those born in the Virgin Islands, who may be interested in tracing their roots.

In total, over 700 persons who are 90 years and older were featured with positive feedback so far from persons who have purchased copies to date.

"They find it a joy to be reminded of their ages, as well as their dates of birth/death; and vital information on other family members. Some have commented that they were not even aware that their relatives had made certain contributions toward the development of the Territory. Others have referred to the book as a valuable keepsake."


Purchase copies

The book is available at the cost of $75.00 a copy. It can be ordered through the website www.andriaflax.com; or interested persons can contact the author directly through valleywalk2021@outlook.com; or by phoning 499-2103 and arranging for a personal delivery of teh book.