Senior legislator and Opposition Leader Hon Julian Fraser RA (R3) says he was shocked at the announcement that Hon Carvin Malone (AL) has rejoined the government, after crossing into the Opposition less than a year ago.
Speaking to Virgin Islands News Online (VINO), Hon Julian Fraser said he had no communication with Hon Malone regarding the move.


'I was surprised' - Hon Fraser
"I had no way of anticipating that. I was surprised but in the British Virgin Islands anything is possible, that's one of them," Hon Fraser told Virgin Islands News Online (VINO) on February 3, 2023.
When asked about the relationship dynamics between the two, he said they shared common ground in terms of what they wanted to see for the VI and the House of Assembly.
"I think we were more concerned about the
CoI
recommendation and the protocols that followed… we were more interested in that and working together as a government and opposition in unity to try to get these conditions that have been imposed upon us and the Order in Council off our backs."
Hon Fraser added there was no conflict in the Opposition between the two, rather, it was all about getting the British off the backs of the VI.
"And I'm sure that's what his intent is still. He probably feels he could get it done better from that other side."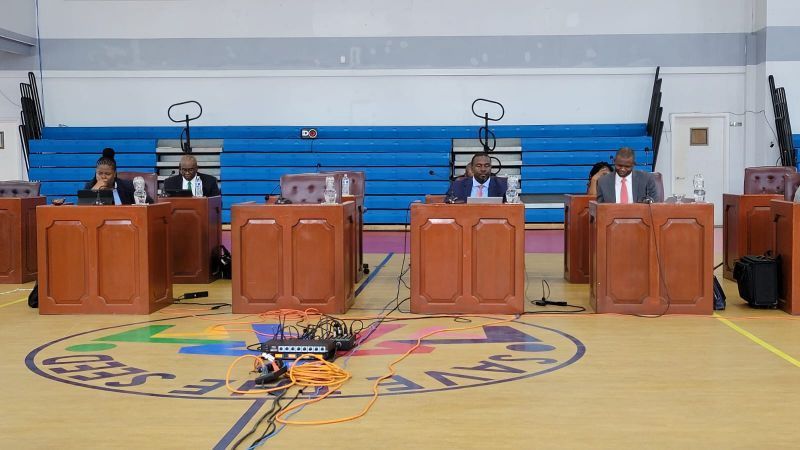 Hon Carvin Malone (AL), seen here back on the Government side in the House of Assembly on February 2, 2023, said he decided to return to the Unity Government side in the House of Assembly after careful consideration and consultation.
The lone voice in opposition
Meanwhile, Hon Fraser said he is used to being a lone voice in the Opposition, as he has done it before when the Unity Government was first formed.
"My voice is going to be very important because the Foreign and Commonwealth Office wants balance and they would want to hear what I have to say and do," he added.
On June 15, 2022, the then Minister for Health and Social Development Hon Carvin Malone (AL), turned backbencher with the formation of the National Unity Government, announced that he had crossed the floor into the Opposition.
Mr Malone at the time said his decision was in the best interest of himself and the territory, based on his views that may conflict with that of the Unity Government.