Confident there are lots if illegal guns and ammunition in the communities of the Virgin Islands (VI), Commissioner of Police Mark Collins has expressed deep disappointment that not a single firearm was turned in during the 2-week amnesty period.
Speaking on JTV's Big Story with Cathy O. Richards on Thursday, April 21, 2022, Mr Collins revealed that the firearm amnesty this month yielded no results.

"We've introduced the amnesty from the 4th to the 18th of April, unfortunately, we didn't get any firearms handed in, not one firearm handed in."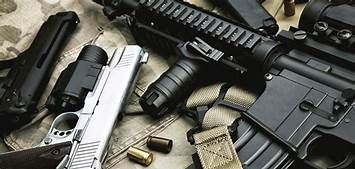 The firearm amnesty in the Virgin Islands, from April 4, 2022, to April 18, 2022, yielded no results.
'I am disappointed'- CoP Collins

Commissioner Collins said the amnesty was put in place following a suggestion by Premier and Minister of Finance Hon Andrew A. Fahie (R1) and that the Force had reached out to community leaders while members of the government also appealed to the territory to seize the opportunity to turn in any illegal firearms.

"I am disappointed to say that we didn't get any firearms handed in because I know people out there know where guns are being harboured, loved ones know that their sons, their brothers, their sisters, they know where firearms are...and it was an opportunity to pass over weapons and it was a shame we didn't get any handed in."

The Commissioner said the RVIPF will continue to act on intelligence, as well as collaborate with other agencies and law abiding members of the community, to reduce the amount of illegal firearms in the territory.

Mr Collins recalled that for 2021 the RVIPF pulled the largest number of illegal firearms from the streets of the Virgin Islands.

"Last year we had our largest seizure ever, 31 firearms in 2021. In the last four months alone we have recovered 45 firearms and lots of these are prohibited high-powered rifles and are really really dangerous weapons."