Fully vaccinated travelers coming into the British Virgin Islands will only be required to quarantine for 12-24 hours, according to new Cabinet decisions. This timeframe will allow for the day-0 test results to be returned.
This was confirmed by Minister of Health and Social Development, Honorable Carvin Malone who said "effective 15th May 2021, fully vaccinated persons travelling from overseas would require a PCR test within five (5) days of travel, provide satisfactory evidence of being fully vaccinated, and will be subject to a PCR test upon arrival (day zero)."

"Fully vaccinated persons will be quarantined until a negative test result is received from the BVI Health Services Authority. In other words, if the test administered on arrival returns a negative result, the fully vaccinated traveler will be immediately released from quarantine (unless they have been in close contact with a positive case)," the Minister later added.

A person is deemed to be fully vaccinated against COVID-19 two weeks after they have received both doses of an approved two-dose vaccine, such as AstraZeneca, Pfizer, or Moderna, and one shot of a single-dose vaccine such as Johnson & Johnson.


NO MORE QUARANTINE FOR "FULLY VACCINATED"LOCAL DAY-TRIPPERS

The Minister of Health announced reduced quarantine measure for day-trippers to the USVI, St. Martin and Puerto Rico.

"Cabinet also decided that effective 15th May 2021, fully vaccinated persons who have been present in the Virgin Islands for a period of more than fourteen (14) consecutive days and travel to the USVI, St. Martin, or Puerto Rico for a period not longer than 24 hours are exempted from quarantine and the COVID-19 test upon re-entering the Territory. However, day-trippers to these neighboring jurisdictions would be required to take a PCR test seven (7) days after returning to the Territory."


GATHERING SIZE INCREASED TO 200

In respect of restrictions on the assembly of persons, the Public Health (COVID-19 Control and Suppression Measures) (No. 3) Order, 2021 comes into effect today and provides the following:

Gatherings among vulnerable persons are not to exceed five persons, as certified by the Chief Environmental Health Officer.

All other gatherings are limited to one person per sixty-four square feet and shall not exceed two hundred persons at any given time; except or faith-based services; graduation ceremonies; wedding ceremonies; or funerals, which shall not exceed two hundred and fifty persons.

Citing that increased gatherings also means increased risk for community transmissions, the Minister implored residents to take the vaccine.

"Again, I emphasize that vaccination is the best defense against the risk of severe COVID-19 symptoms and death.As a caring and responsible Government, we have taken extensive measures and made significant investments to safeguard the health and well-being of the people of the Virgin Islands against the threat of this deadly virus."

Wholesale & retail giant, Road town Wholesale will be hosting another vaccination clinic this Saturday, April 24th for persons who are interested in taking the jab.

They are affording fully vaccinated customers a 10% discount.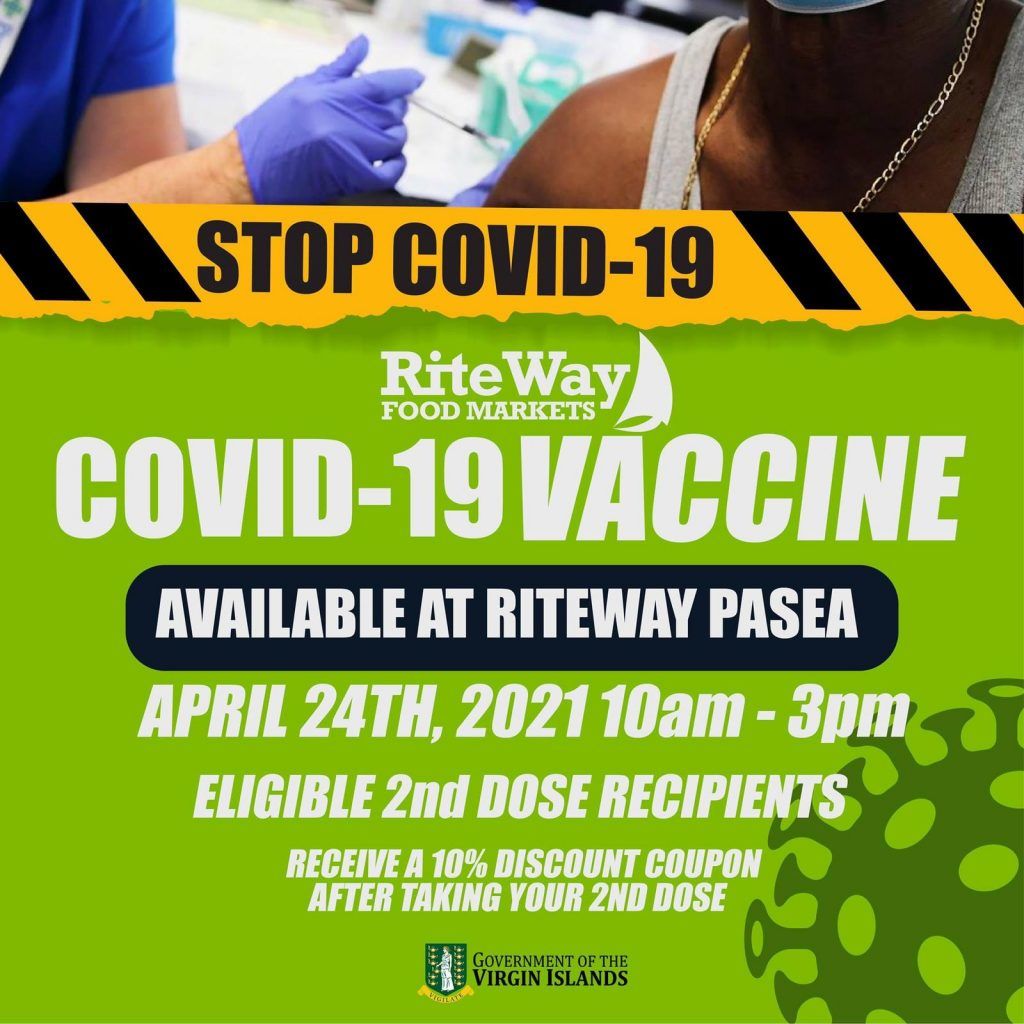 Clarence Thomas Limited (CTL) is also offering a 10% discount off all purchases from now until the end of May for consumers who present a BVI Vaccination card.