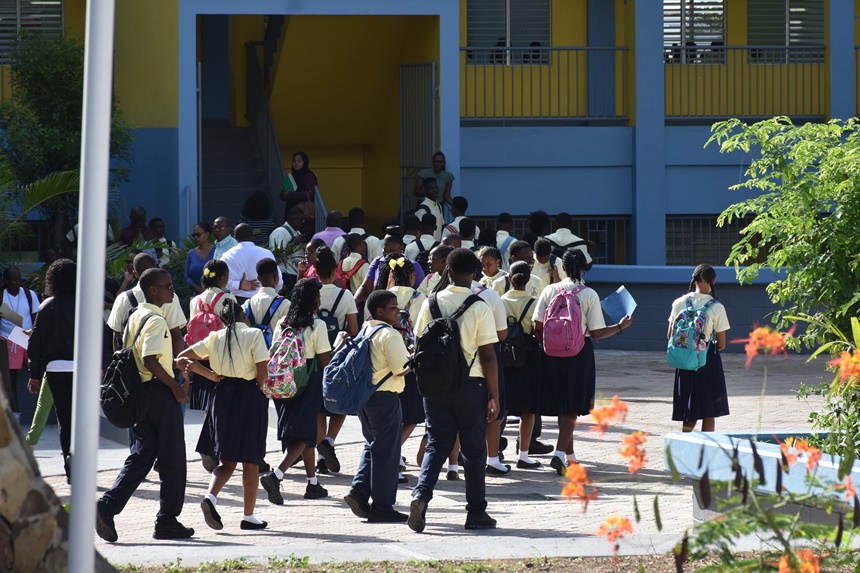 Optimistic start to new school year
Virgin Islands students officially returned to school yesterday and there is strong optimism from the Ministry of Education in pushing full steam ahead and achieving the desired objectives for the upcoming academic year.
In an interview with BVI News, Acting Chief Education Officer (CEO) Dr Connie George said she is quite pleased with the start of the school year. She commended the principals of the various schools for what she described as an exceptional job in starting the school year correctly.

"We were able to visit several of the schools yesterday, my officers, and we were very pleased with what we saw. Students were welcomed, treated very warmly, and given a very good welcome back, teachers were also given a very good welcome back and we started off well in all of the settings yesterday. We are looking forward to an excellent school year under our theme, 'Virgin Islands Education Moving Full Steam Ahead' and we are looking forward to an exceptional year and we are looking to execute the theme integrated approach to learning and helping our students to excel," Dr George said.

Dr George also noted the schools on the sister islands had a good start to the school year as well.

"I saw quite a several pictures coming from out of Virgin Gorda and Jost Van Dyke, to be honest, and they were all great. I personally have not been in touch with Anegada but I know Anegada is similar, so the school started well," she added.

Meanwhile, our news centre also spoke with Tammy Henry, the Principal of Ivan Dawson Primary School. She noted it was a very busy day yesterday for both teachers and students. The principal said the school orientation happened yesterday as it was cancelled last week because of inclement weather.

"So, we had a big orientation with everyone. Then they did a couple of assessments. They did not do any work yesterday, just some math and language assessments," Henry said.

She noted that the teachers are motivated for the upcoming year, and they will be giving 100 per cent. She further said teh school is expecting 100 per cent commitment from the parents as well.

"As a result, our children should get 100%. So, we are working as a team, teacher, parent, student with everyone giving 100%," Henry added.

The principal noted the school has been heavily involved with the community over the years and they are looking forward to continuing and growing that involvement. Additionally, a lot more emphasis will be placed on literacy and numeracy.

"For the rest of the term, you know our theme is full steam ahead. Our focus will be on literacy especially, we are going to try and implement reading programmes as much as possible in our teaching and we are going to continue our community outreach. We are going to continue a lot of our reading-focused activities of last year and we are going to add math," Henry said.