Premier and Minister of Finance, Dr the Hon Natalio D. Wheatley has launched his 2023 re-election campaign with big plans for the Seventh Electoral District, which he says will come as part of overall development in the Virgin Islands.
During his campaign launch at The Stickit in Long Look on April 4, 2023, the Premier said while his government has made a great deal of progress over the last few years, there is still more work to be done.


Still many challenges to be addressed - Dr Wheatley
"There are so many more challenges that need to be addressed. I would never come before you and not acknowledge that there's not a lot more work to be done in this district. Our people in the Seventh District deserve the very best and we must all work hard to ensure that they receive the very best," he added
The Premier listed issues such as roads, water, derelict vehicles, employment opportunities, crime, healthcare and high cost of living as items on the agenda to be tackled.
The youthful Premier, who took over the leadership of the territory during turbulent times in May 2022, said by the grace of God he will address the challenges and provide the people of the Seventh District with representatives that can bring solutions.
He also said it is far from the truth that the district has a current representative who has neglected the needs of the people for national ambitions.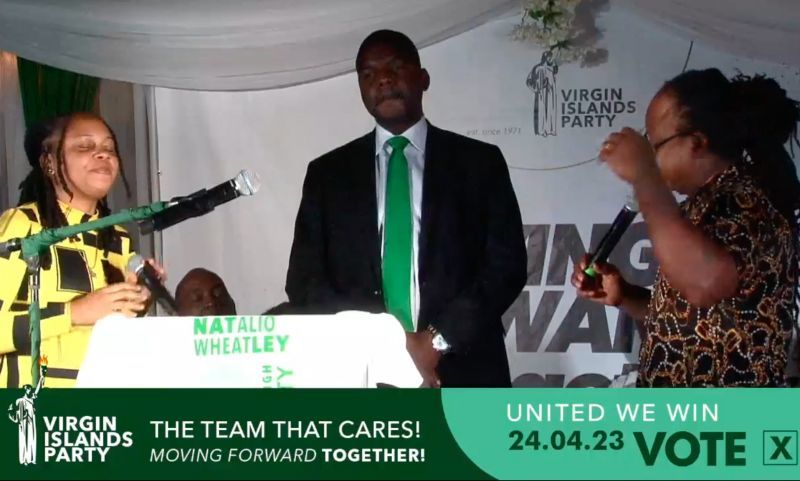 Dr the Hon Natalio D. Wheatley, speaking at his official campaign launch on April 4, 2023, said the people of the district deserve the very best.
'Your district representative loves you' - Dr Wheatley
Dr Wheatley holds the distinction of being the first Premier to emerge from the Seventh District, a proud achievement for the people of the district.
"Your district representative loves you, he appreciates you, he wants the best for you and he is fighting for you. The challenge is not with your district representative, the problem is with the system, we are being failed systemically."
He further promised to reform the systems in the VI, so the government can deliver progress for the people.
"God has blessed me and team VIP with the gifts and the golden opportunity to solve the problems of the people in this community. We have the team that can get it done," he added.
Meanwhile, the Premier shared plans for the district, along with national infrastructure development for better roads and drains, water infrastructure, and plans to reform social services.
Further, the Premier spoke about the need to bring employment to all the districts, along with an agricultural programme, adherence to labour codes, developments in travel, tourism, and construction, along with with a greater mandate for
the Virgin Islands
Recovery and Development Agency (RDA), amongst more projects.