Residents of Anegada have appealed to the Government of National Unity to pay attention to the security and safety of teachers and administrative staff at the Claudia Creque Educational Centre.
The issue of security for the school was brought up at a community meeting held at Emile E. Dunlop Community Centre on October 2, 2022.

Present were Premier and Minister of Finance Dr the Honourable Natalio D. Wheatley (R7), Deputy Premier and Minister for Communication and Works Honourable Kye M. Rymer (R5), Minister for Natural Resources and Labour Honourable Melvin M. Turnbull (R2), Minister for Health and Social Development Honourable Marlon A. Penn (R8) and Junior Minister for Trade and Economic Development Honourable Shereen D. Flax-Charles (AL).

Legislators were told of a number of instances where teachers were abused by parents, one most recently.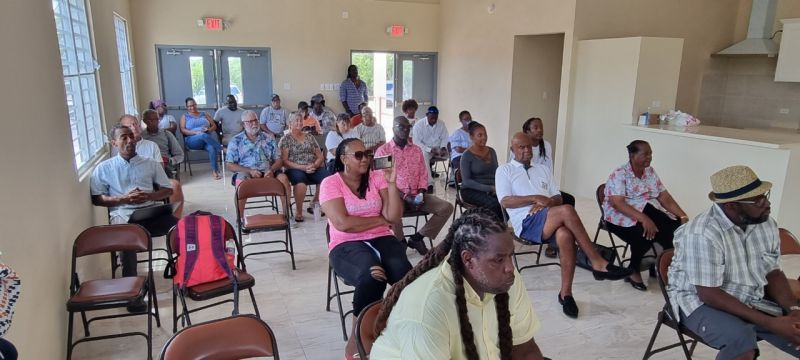 The issue of security for the school on Anegada was brought up at a community meeting held at Emile E. Dunlop Community Centre on October 2, 2022.
'The school needs security'- Anegada resident

"All these years we are watching the school gates, people are just able to open and walk in. When is it going to take, maybe the beat down of a teacher or a student in the school, for us to come to the put security at that gate?" Anegada resident Mrs Sherryann George stated.

"We all know that a parent was taken to court for assaulting a teacher in that very school yet all these years later, we are able to open the gate and walk on to the school compound. Those things have to be addressed, they have to be addressed urgently. The school needs security, up to recently we heard about an incident where a parent was able to walk into the school and box down the phone of a teacher. That could have been the teacher's life in danger," George added.

Supporting those comments, the maintenance officer for the school said that in February of 2021, this very concern of security of the school was stressed, "It was said then and nothing was done so I am hoping that her statement this afternoon is going to make something happen. I am the maintenance guy at the school and every day the teachers have to be going by the gate. Teachers shouldn't have to be the ones going by the gate, they are teachers, we need a security officer."


'It's a struggle…' Premier Wheatley

Premier Wheatley said it is sometimes a struggle to get persons in the public service to understand why the sisters islands need more attention and resources.

"But it is really something that we cannot continue to tolerate," Dr Wheatley stated.