As the government tries to confront its longstanding waste management issues, Minister for Health and Social Development Marlon Penn, along with a team from the ministry, is visiting Bermuda to look at the country's waste treatment facilities.
The delegation — which includes the Permanent Secretary in the Health Ministry, Petrona Davies; and Senior Project Manager of the Recovery & Development Agency (RDA), Albert Gillings — is on a three-day visit to learn about Bermuda's waste disposal system.

The three-member delegation's focus will centre on Bermuda's waste management process including the Tynes Bay Waste to Energy Facility in Devonshire, the Marsh Folly Depot, and the Airport Facility.

A press statement by the Bermuda government indicated that Bermuda remains a regional leader in waste management because of its decision in the 1980s to transition from a landfill disposal system to the construction and use of an incinerator which is used primarily to decrease the size of combustible waste by up to 90% within the island's waste management plan.

The BVI also utilises an incinerator to reduce the size of combustible waste, but it has faced several and significant troubles over the last few years. The Pockwood Pond incinerator has been offline since February 14 after a fire destroyed the main control panel and electrical system.

Since then, the government has issued several deadlines for fixing the issue, but none has been followed through. Back in May in the House of Assembly, Penn said the government is in the process of procuring replacement parts from a Virginia-based equipment manufacturer, Consutech Systems LLC.

The ministry said the company was already contracted to supply a replacement quench tank and ash conveyor, a heat exchanger, and three transfer rams; all of which would be required to bring the incinerator back online. Since then, no further updates to the situation were given.

Meanwhile, in addition to meeting with Bermuda's Chief Engineer for the Ministry of Public Works, the BVI team paid a courtesy visit to the Premier, David Burt.

The BVI delegation's schedule in Bermuda also includes a tour of the King Edward Memorial Hospital Emergency Department and the Mid-Atlantic Wellness Institute.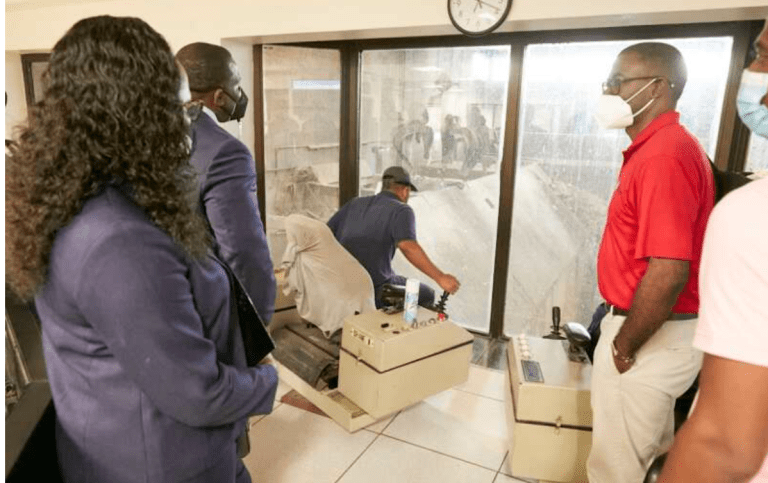 A BVI delegation led by Health Minister Marlon Penn during a tour of the Tynes Bay Waste-to-Energy facility in Bermuda this week.