The National Democratic Party (NDP) has been working overtime to get a full slate of candidates to contest the April 24, 2023, General Elections in the Virgin Islands (VI) and they have eyes on former Water and Sewerage Department (W&SD) Director Mrs Perline R. Scatliffe-Leonard to fill the slot for the Seventh District.
NDP trying to capture Independent candidates
On Wednesday night, March 15, 2023, one of the NDP's Territorial At Large candidates, Dr Kedrick D. Pickering, teamed up with Independent candidate Scatliffe-Leonard to hold a public meeting at The Stickit in Long Look where he endorsed Mrs Scatliffe-Leonard but also made it known he wants her to join the NDP.
"Don't mind Perline running as an Independent, Perline is going to work with me, I will wring her hand a little [to] see if she is going to join the NDP but she isn't coming yet, but don't matter what happens, I with Perline and Perline with me," Dr Pickering, who was defeated by now Premier Dr the Honourable Natalio D. Wheatley for the Seventh District seat in the 2019 general elections, declared.
Recycling of candidates
So far, the NDP has been recycling most of their candidates who were rejected in the 2019 elections, including the controversial former Education Minister Myron V. Walwyn, former Elmore Stoutt High School Principal Sandy M. Harrigan-Underhill and Aaron F. Parillon.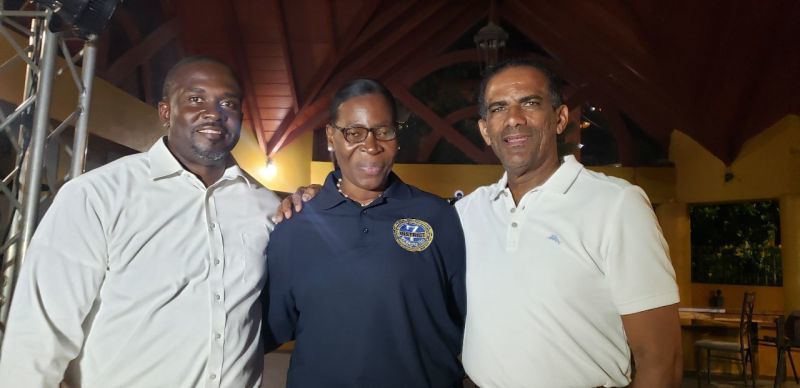 Eighth District Representative Hon Marlon A. Penn, left, the Minister for Health and Social Development in the Unity Government, is pictured with Independent candidate Perline R. Scatliffe-Leonard and NDP At Large candidate Kedrick D. Pickering.
Perline's predicament
Scatliffe-Leonard's biggest task has been to convince the public that she would be more effective as a representative than she was as Water and Sewerage Department boss, as it has been far from impressed with her performance there.
Dr Pickering, nevertheless, pleaded with the D7 constituents to vote for Scatliffe-Leonard.
"You elect Perline as the representative for the Seventh District and every one of you who registered in the Seventh District I begging you for your vote. I don't care whether you are NDP, VIP, PVIM, I don't care who you are, you know me and I know you, I begging every single person who is registered in the Seventh District for your vote."
Scatliffe-Leonard thanked Dr Pickering for his endorsement but did not give any indication as to whether she has any intentions of entering talks with the NDP at this time.
Political pundits are; however, confident Scatliffe-Leonard will align herself with the NDP.