Following the shutting out of Rosemary Cindy Rosan from what was intended to be a Premier's press conference on February 20, 2023, Premier and Minister of Finance Dr the Honourable Natalio D. Wheatley (R7) is now calling for a code of conduct for journalists in the Virgin Islands (VI).
Dr Wheatley, in a brief statement on February 20, 2023, said he fully supports free speech and freedom of the press, which are pillars of democracy; however, he said both should be exercised responsibly and according to high international standards.


Code of conduct
"In light of the importance of high journalistic standards to keep the public informed and recent questionable decorum by at least one person at a recent press conference, the Premier's Office is urgently calling on the press to collaborate on developing a code of conduct that would help to guide the conduct and behaviour of journalists at press conferences and also offer guidance on the handling of misconduct," Dr Wheatley stated.
He said the Premier's Office will be requesting a meeting with the Press Corps on the development of a policy on government press conferences.
"We look forward to engaging our vibrant local media partners in this endeavour," Dr Wheatley said.
After Rosan was denied access to the press conference, which was called to update the public on Premier Wheatley's attendance at the recent CARICOM Meeting in The Bahamas, the remaining journalists boycotted the press conference.
Dr Wheatley; however, proceeded to just give his statement on the CARICOM meeting as well as other issues on the local front.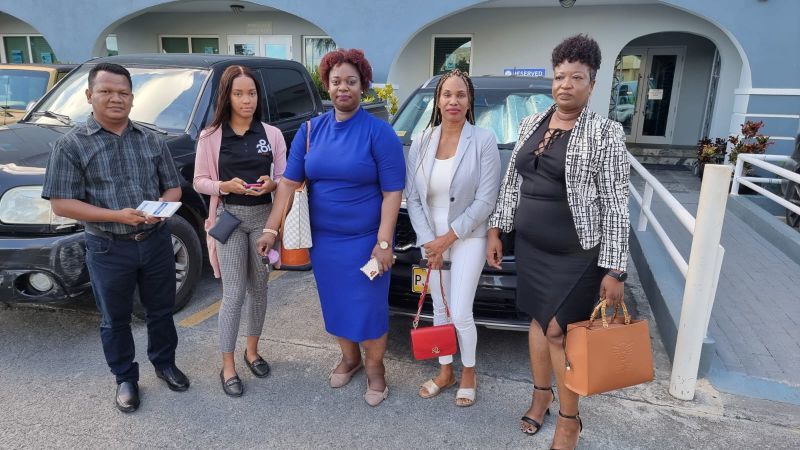 Reporters boycotted the press conference by Premier and Minister of Finance Dr the Hon Natalio D. Wheatley (R7) after Rosemary Cindy Rosan (2nd from right) was reportedly barred from it.