With the threat of suspension of the 70-year-old Virgin Islands Constitution and the imposition of direct rule by the former colonisers United Kingdom (UK), Virgin Islanders have been expressing their concern about this large possibility.
Some, including Acting Premier Dr the Honourable Natalio D. Wheatley (R7) and religious leaders, have already begun to publicly reject the notion of a UK takeover of the VI.

According to reports reaching our newsroom, persons even plan on taking to the streets to publicly express their rejection of direct rule by the UK.

Many have said they had welcomed the Commission of Inquiry (CoI) as a tool to identify the problems in governance and for the UK to work with the VI to correct the identified shortcomings, but not for the VI to become a colony like in the days of old and undo all the progress made since the reinstatement of the Constitution in 1950 following the Great March against UK neglect.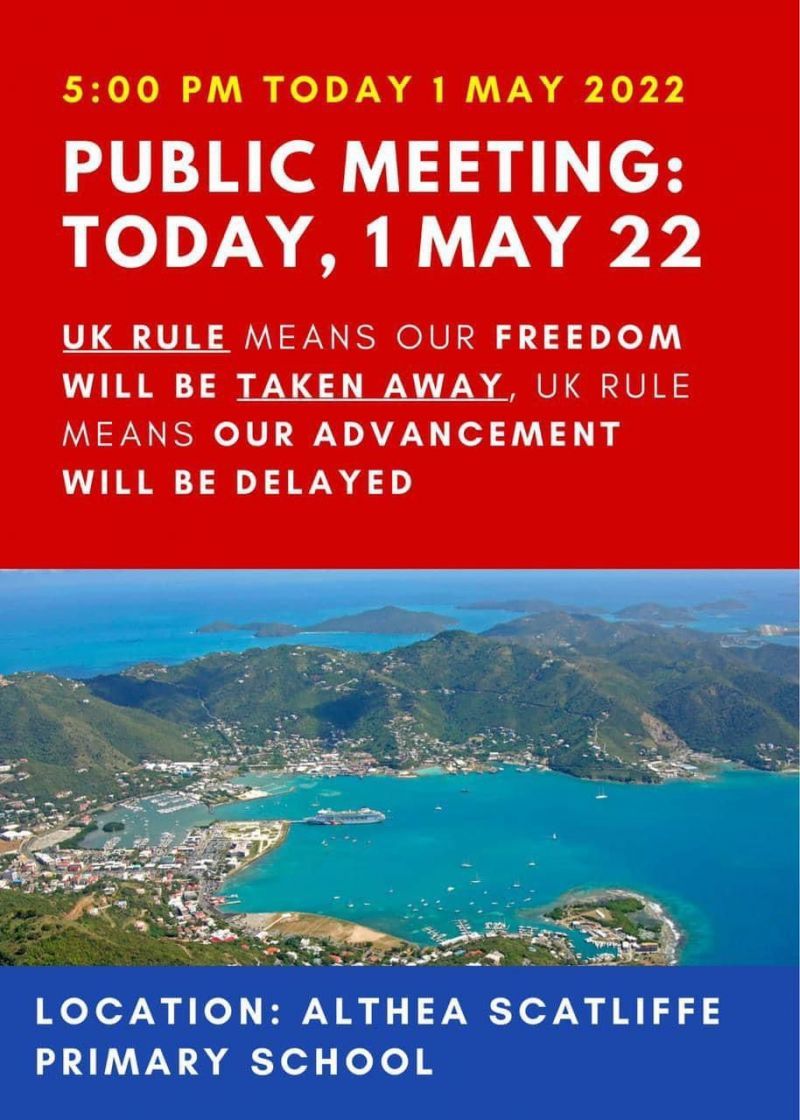 The poster promoting the Public Meeting at Althea Scatliffe Primary School today, May 1, 2022.
Public Meeting @ Althea Scatliffe Primary School

To further inform the people about what direct rule could mean for the territory, a public meeting has been planned for 5:00pm at Althea Scatliffe Primary School in Road Town.

It is unclear who is behind the organising of the meeting; however, a flier sent to our newsroom stated 'UK rule means our freedom will be taken away. UK rule means our advancement will be delayed.'

According to the CoI Report, serious dishonesty may have taken place in Government and by Members of the House of Assembly (HoA) over recent years and recommended a temporary partial suspension of the constitution. This means that there would be neither ministers of government nor elected representatives and the VI would be run by the Governor.